The business owners in downtown Columbia Missouri hatched a plan. They wanted to make improvements, but they didn't want to have to pay for them through property taxes. So they got the city council to create a local "Community Improvement District" (CID) that would have the power to levy a half-cent sales tax in the district. But they would have to get voter approval to raise that tax, so they carefully shaped the CID to not include any voters, taking advantage of a loophole that would then let the business owners vote. Here's the district: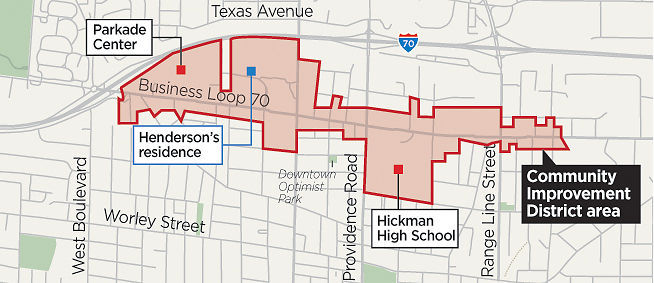 There's just one problem. The CID did contain a resident, Jan Henderson, a student at the University of Missouri, and she registered to vote. That means that Henderson now is the only voter in the CID, and she alone can decide the fate of the sale tax increase.
What makes this funny is that the CID was so sure of their plan, they had already started spending the money they were expecting from the sales tax increase. They hired a director, and incurred significant legal fees setting up the district.
What makes this ironic is that if the sales tax fails, the property owners will probably have to raise their own property taxes in order to pay back the debt they incurred in order to set up the CID to avoid paying more property taxes.