Donald Trump is still claiming (loudly and repeatedly, of course) that he personally saw "thousands and thousands of people" in Jersey City, NJ cheering in the wake of the 9/11 attacks. This despite the fact that multiple fact checking services have called him a liar over it, and even the police have denied it ever happened.
But Trump said he has proof, pulling out a story from the Washington Post from September 18 and reading it out loud at a campaign event in Ohio. The story says that "law enforcement authorities detained and questioned a number of people who were allegedly seen celebrating the attacks and holding tailgate-style parties on rooftops while they watched the devastation on the other side of the river."
That's the best he can do for proof? One article that says that a few people were questioned for "allegedly" celebrating? That's a far cry from personally seeing "thousands and thousands of people".
Unfortunately for Trump, even the two reporters who wrote that story say that they "could never verify that report" and that they "do not remember anyone saying that thousands or even hundreds of people were celebrating". And there is no actual video of anyone celebrating to be found, even though Trump claims he saw it on TV.
But my favorite part of this is how Trump supporters are dealing with this. One said:
I mean, it probably did happen in some ways. Let's face it, you look at the facts, it did happen. There's good Muslims as well as those that aim to harm America. I think those are the ones we're concerned about.
Note how he pivoted from "probably did happen" to "it did happen", and then changed the subject.
This mirrors how Trump thinks. In a "classic" stream-of-conscieousness progression Trump said later on TV, "So, nobody believed me. Some people believed me. By the way, thousands of people believe me because they saw it." Wow.
Another supporter went even further and claimed that there have been anniversary celebrations of the attacks.
Trump's reality-free zone even affected another presidential candidate. Ben Carson first claimed that he saw Muslims cheering in New Jersey on TV news coverage after the 9/11 attacks. But he then changed his mind and walked back those comments.
Meanwhile, Nate Silver points out that the number of Trump supporters is around the same number of people who still think the moon landing was faked. In other words, reality may not particularly mean anything to them.
UPDATE: Trump proceeds to sprint even further away from reality. Last Saturday, a known black activist shouted "black lives matter" at a Trump rally in Birmingham Alabama. Trump stopped his remarks and said "Get him out of here. Throw him out!". Television footage then shows the protestor on the ground, surrounded by several white men who appear to be kicking and punching him, and one man put his hands on the protester's neck in an apparent attempt to choke him.
The next day on Fox News, Trump responds "Maybe he should have been roughed up, because it was absolutely disgusting what he was doing. I have a lot of fans, and they were not happy about it. And this was a very obnoxious guy who was a trouble-maker who was looking to make trouble." This is a significant change from just a month ago, when Trump told his audience not to harm protesters who often show up at his rallies.
Then Trump goes completely off the deep end. The same day, Trump tweets an image that shows a black man holding a gun titled "USA Crime Statistics" for 2015, including claiming that 81% of white murder victims were killed by blacks. At the bottom of the image, it says that the source is the "Crime Statistics Bureau – San Francisco":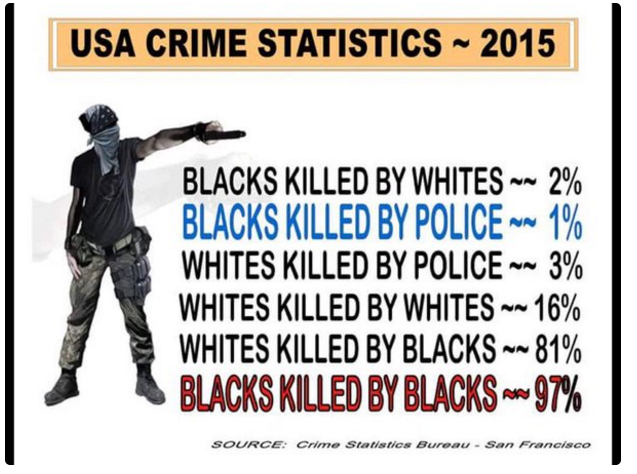 Ignoring that the image is blatantly racist and offensive, it also has nothing to do with reality. According to PolitiFact (who give Trump a "Pants on Fire" for this), "The most glaring inaccuracies have to do with white homicide victims. Trump cast blacks as the primary killers of whites, but the exact opposite is true." In fact, only 15% of the murders of whites are committed by blacks, not the 81% claimed by Trump."
The other "statistics" shown in the image are also off, all but one of them by factors of 400 to 540 percent. Which is not surprising considering that the "Crime Statistics Bureau" doesn't exist. Even if it did, you would think that Trump might notice that the image claims to have crime statistics for 2015, but no such numbers have been published because the year isn't even over yet.
Then, the image is traced back to a tweet from a white supremacist in the UK. Here's his bio, complete with an admiring remark about Hitler. His avatar is a modified swastika that is the symbol of a neo-Nazi religious group in Germany.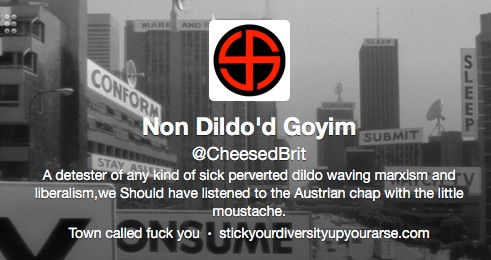 A leading Republican candidate for president is tweeting neo-Nazi propaganda and expressing approval of protesters being beaten up at his campaign rallies. Seriously? Could Trump get any more disgusting? I'm almost afraid to ask that question, because he undoubtably can.