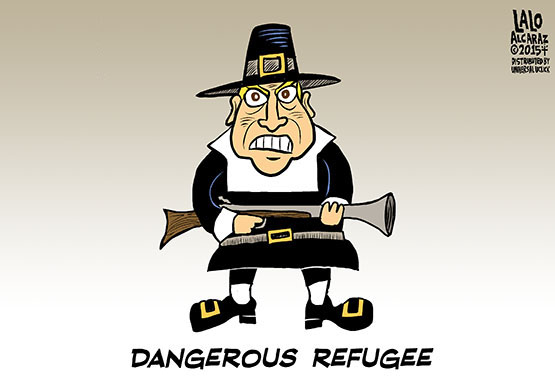 © Lalo Alcaraz
Also, commentary by Lalo Alcaraz:
I have mixed feelings on the Syrian refugee crisis. Of course, we know that Republicans are turning a well established US refugee program into a political football by playing on terrorism fears and anti-Muslim fervor. On the other hand, our people have not fared well early on with some refugees, mainly the ones depicted above. I guess all we can do is give thanks that Syrian toddlers and their families are far less likely to do harm to our people than the violent religious fanatic depicted above. On a totally unrelated note, Happy Thanksgiving!
Is it fair to say that (other than Native Americans) almost everyone in this country it descended from some sort of refugee? We all have reasons to be thankful.
Why did your ancestors come to this fair land? There must have been some reason they wanted or needed to leave their home for the new world. Personally, I have ancestors who fled the Nazis, others who were sent far away for breaking the law, others who fled looking for a better opportunity. America accepted them with open arms (for the most part, or at least gave them a fighting chance). Have we forgotten that America once was, and still should be, a great melting pot for humanity?