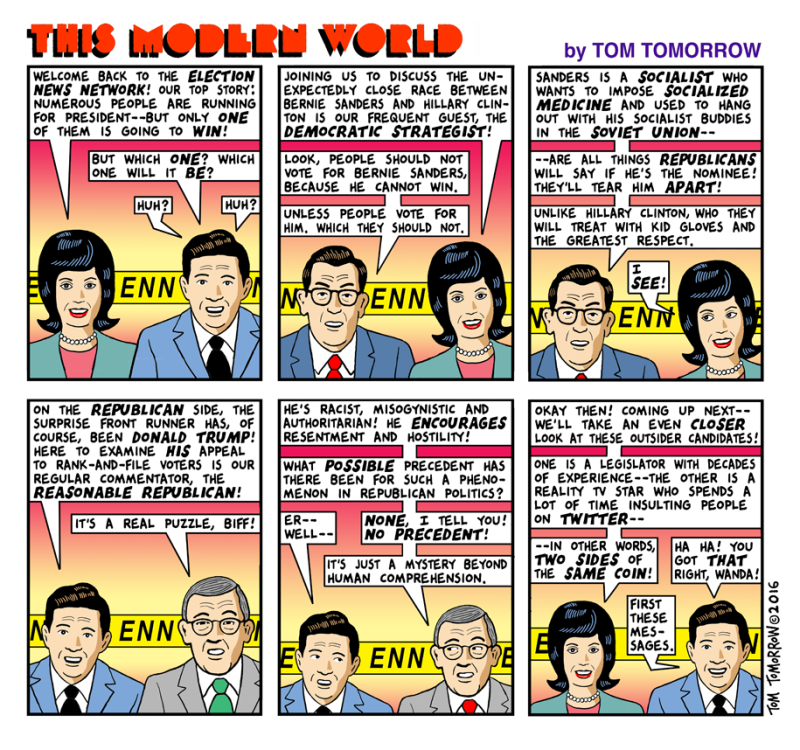 © Tom Tomorrow
Ok, I need to clear up some misinformation that I've been seeing in almost all of the media. The media keeps reporting the popular vote totals from the Iowa caucuses. Based on the popular vote, they keep calling the results for Clinton and Sanders a "dead heat". There is just one problem: the popular vote totals do not determine the primary results. It is the delegate counts that count.
So what if Hillary Clinton got 49.8% of the vote and Bernie Sanders got 49.6%? That does sound awfully close. But Sanders won big in just a few districts (districts with large populations of young people, like university towns). As a result, Clinton actually got 28 delegates, while Sanders got 21 (2 delegates were "uncommitted"). That means that Clinton got 55% of the delegates and Sanders got 41%. That doesn't sound quite so close, does it?
How did that happen? Within a district, you only need to get 51% of the vote in order to get that delegate. If Sanders got 100% of the vote in a college town, he would still only get one delegate.
It works the same way in the national election, where most states are "winner take all". It is a weird system, but it is the one we currently have and it is too late to change the rules for this election (although I really think we should change the rules).
But it gets worse. Because the Democratic party has "superdelegates", Clinton currently leads Sanders by 384 delegates to 29. And that is not close at all.
Up next is the New Hampshire primary, where Sanders (from Vermont) is very popular. But New Hampshire only has 32 delegates total. So Sanders could win every single delegate from New Hampshire (an unlikely complete blowout), and it will make little difference. After that are states like Nevada and South Carolina, where Clinton is favored.
Now, having said all that, I do want Sanders to keep getting lots of votes. Why? Because as long as he is still in the primary race, he will highlight the differences between the Democrats and the Republicans, and he will push Clinton to the left. Both of those things are very important. Right now, Clinton's biggest problem is how she can avoid alienating Sanders' followers and turn them into Clinton voters in the general election.
UPDATE: By the way, I'm not just picking on Sanders and the Democrats. The same thing happened on the GOP side. The media keeps calling it an upset win for Cruz, with Trump second, and Rubio third. Again, that is based on the popular vote. But the delegate count tells a slightly different story. Ted Cruz did get the most delegates, he got eight. Donald Trump got seven delegates, just one less than Cruz. And Marco Rubio also got seven delegates, the same as Trump. So where are the headlines talking about a tie between Trump and Rubio?