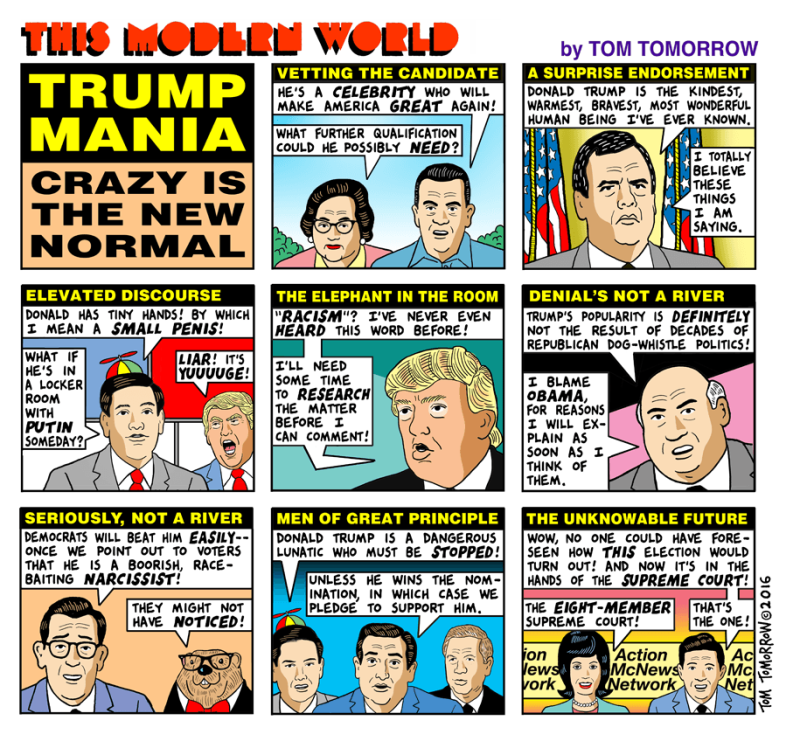 © Tom Tomorrow
Efforts by the Republican establishment to "stop Trump" are virtually guaranteed to fail. Why? For three main reasons:
1. Just what the heck are they going to use to scare people away from Trump that GOP voters don't already know about him? That he has no government experience? That he isn't a "true" conservative?
2. If Trump is elected president, what could he do that hasn't already been done by other Republican presidents? There are things they could say that might stop people from voting for Trump, but those are also good reasons to not vote for any current Republican for president.
3. The things the establishment doesn't like about Trump are the reasons people are supporting him. Like his lack of government experience. Or the fact that he isn't politically correct. Or that he is racist.
I mean, what is the worst thing that Trump could do as president? Start stupid wars that cost trillions of dollars and half a million lives? Destroy the economy and millions of jobs, like their last president did? Siphon billions of dollars to his cronies, like their last VP did with Halliburton? Shut down the government, like Reagan, Bush Sr., Newt Gingrich, and Ted Cruz did? How about torture or other war crimes?
They can complain he's not a social conservative, but what kind of success have the Republicans had on social issues like abortion and gay rights?
Or they can complain he's not a fiscal conservative, but the last three GOP presidents all increased the deficit and two of them raised taxes more than Obama did with the ACA.
It doesn't even matter that he isn't actually a successful businessman. He plays one on TV, and (unfortunately) that's close enough.