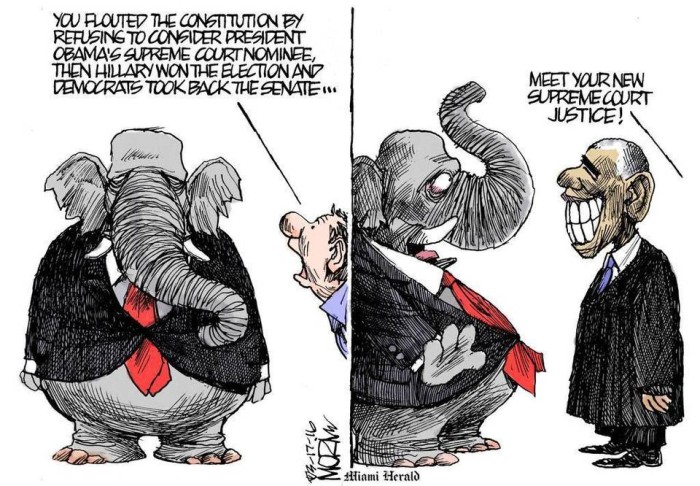 © Jim Morin
We've already discussed the idea of Hillary Clinton nominating Barack Obama to the Supreme Court. I love it.
Speaking of revenge, Politico makes the case that Hillary Clinton should pick Al Franken as her Vice President. They have lots of good reasons, but the best one to me is that it would drive conservative pundits absolutely crazy. After all, Franken has authored books like "Rush Limbaugh is a Big Fat Idiot" and "Lies, and the Lying Liars Who Tell Them" (which featured a photo of Bill O'Reilly on the cover).
Franken could be the person best equipped to stand up to Trump … with humor. After all, Franken is a former comedian, and Trump seems to have no sense of humor at all. And Franken may be the best person to attract even die-hard Bernie Sanders supporters to vote for Clinton. Besides, he has been in the Senate for seven years; longer than either Obama or Clinton. And I like him because he seems to be the only senator who actually understands the internet, and is (as The Nation once said) "one of the Senate's most impassioned champions of net neutrality".
Does anyone else love the idea of Clinton as president, Franken as Veep, Sanders and Warren still fighting the good fight in the Senate, and Obama on the Supreme Court? For me, it would be a dream come true.