Sunday, Donald Trump doubled down on racism, saying that the US will have to consider the use of racial profiling:
Well I think profiling is something that we're going to have to start thinking about as a country. Other countries do it, you look at Israel and you look at others, they do it and they do it successfully. And I hate the concept of profiling but we have to start using common sense and we have to use our heads. Other countries do it, and it's not the worst thing to do.
Seriously?
This is just the latest stupid idea coming from Trump. Immediately after the massacre in Orlando, Trump renewed his call for a ban on Muslims entering the country. Never mind that the shooter was born in the US, so a ban would have done absolutely nothing other than maybe helping to push more unstable Muslims like the Orlando shooter over the edge.
Then he claimed that Muslims should turn in other Muslims who display signs of being radicalized to the police and FBI, ignoring the fact that Muslims are already doing that.
He then tried to blame Orlando on Obama (with help from John McCain), but that didn't work either.
So now he wants us to crack down on the vast majority of Muslims who are just as appalled by terrorism as the rest of us (probably more so since it can only cause them more problems). Like, is there any way Trump could play into the hands of the terrorists any more than that?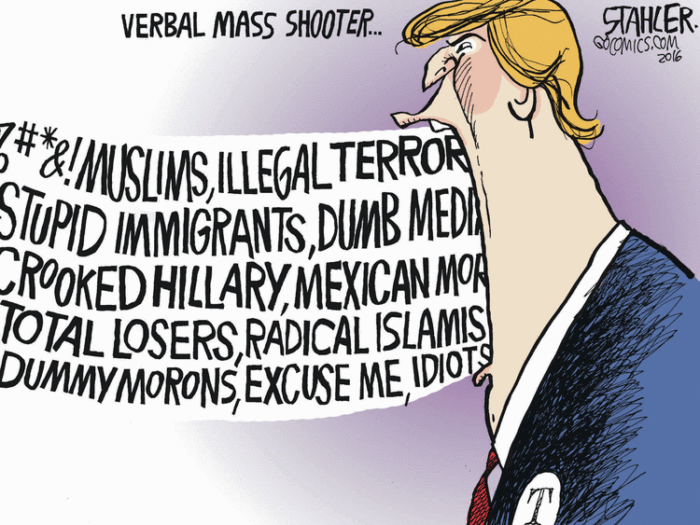 © Jeff Stahler