It is time for people to stop hating and arguing against each other and realize that neither side has exclusive rights to the truth.
Being a policeman is a tough job, and a dangerous job. Mistakes will happen. Most police deserve our respect and admiration. But a few police are criminals and should be removed from the force (and in some cases, put in jail).
The militarization of the police over the last few decades is a very bad idea. The military's job is to kill the enemy. It is not the job of the police to kill anyone.
On the other hand, killing police officers in retaliation is even worse. When someone does that, they become the enemy. Terrorism is never a good civil strategy.
But I'm mainly sad because I've been apprehensively expecting and dreading this. The level of racism in this country is out of control.
When a former Congressman tweets something like this, he should be prosecuted for a hate crime: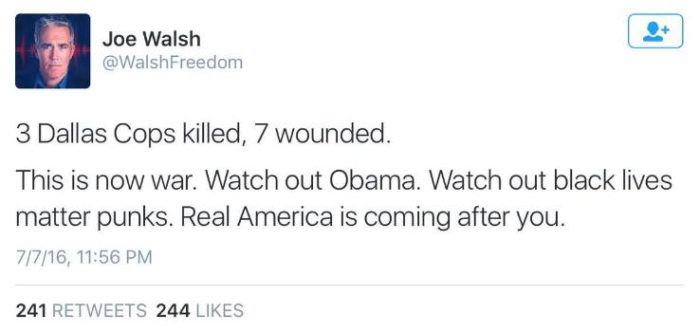 This is not war, and we do not need to choose sides, to choose between caring about Philando Castile and the Dallas cops.
We need to be able to see both sides of this issue, including the problems suffered by minorities in this country, and the issues faced by the police. We have to work together toward a solution. Otherwise this will destroy us.
---
Also published on Medium.