Trump, his surrogates, and his campaign continue to ram their collective feet further down their own throats. Of course, we are talking about Trump's reaction to Khizr Khan's speech at the Democratic National Convention.
It looks like everyone is condemning Trump for attacking the family of a soldier who was killed in action. Not just Democrats but also Republicans, and especially veterans. Surprising names among the people saying that Trump should apologize to Khan include Sarah Palin's son-in-law and Chris Christie.
And then Trump really pissed people off. He staged an event where a Purple Heart recipient gave Trump his medal. But Trump couldn't get that right. He sounded like he was making light of it, responding, "I always wanted to get the Purple Heart. This was much easier." You normally only get a Purple Heart if you are seriously (and permanently) injured or killed. Saying you want a Purple Heart either means you don't know what a Purple Heart is, or you're certifiably nuts.
This mess coincided with a new report that shows that Trump received five draft deferments in order to get out of serving in the Vietnam war. If he really wanted a Purple Heart, he sure was going to great lengths to avoid it.
Finally, the winner of the "adding insult to injury" award is Trump campaign spokesperson Katrina Pierson. In an interview on CNN, Pierson blamed Barack Obama and Hillary Clinton for the death of Humayun Khan, for heartlessly ordering him on that ill fated mission. Except that Captain Khan was killed four years before Obama was elected president (or Clinton became Secretary of State).
In response, the hashtag #KatrinaPiersonHistory went crazy on Twitter. People are sarcastically blaming Obama and Clinton for the death of JFK, the death of Alexander Hamilton, The Alamo, Hurricane Katrina, the Titanic, Pearl Harbor, and even the Black Plague.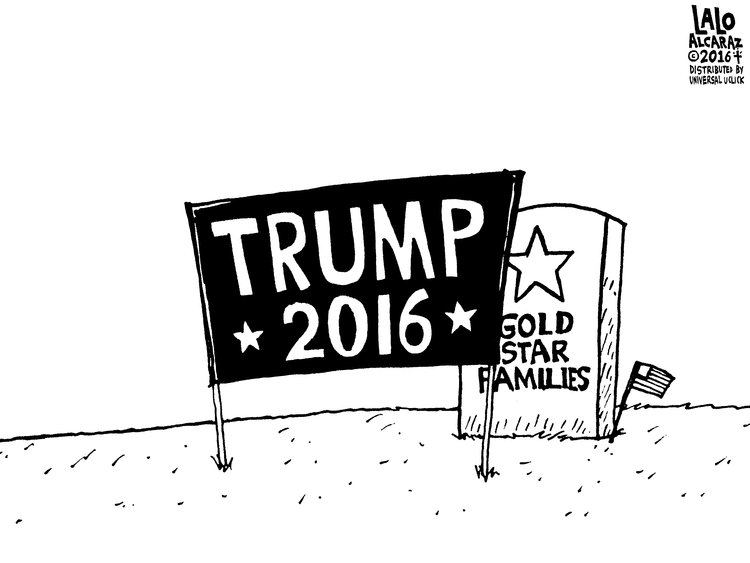 © Lalo Alcaraz
---
Also published on Medium.