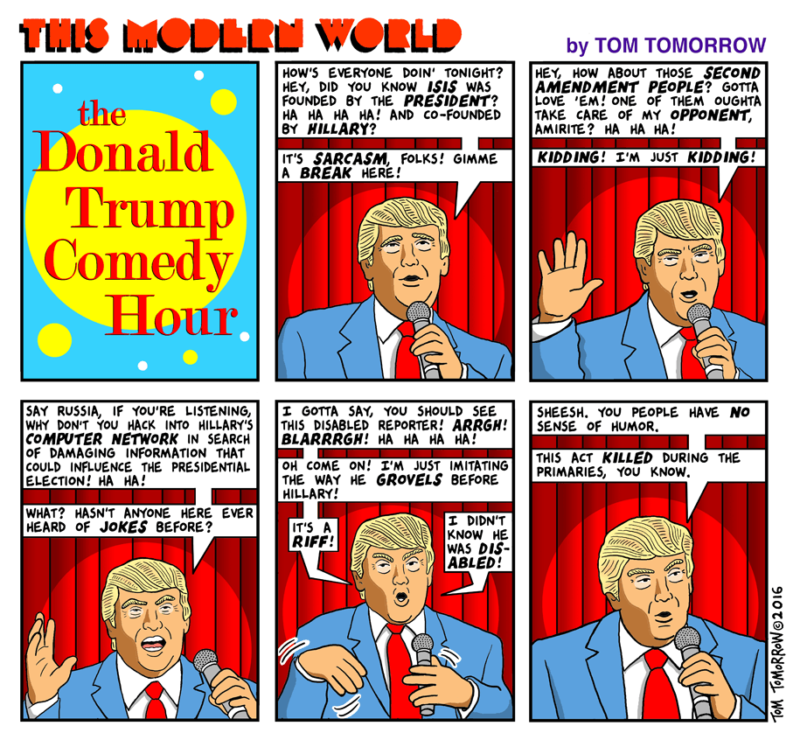 © Tom Tomorrow
It would be a fantastic performance, except for the fact that he has a chance of becoming our next president. Even worse, that more than a third of all Americans have been fooled into taking him seriously and actually want him to be president.
And unfortunately, with his talk of how the election will be rigged, we will have to live with the aftermath of Trump even if (when?) he loses. It could be very bad.
UPDATE: Trump seems to be once more blaming his failures on his staff, reorganizing his campaign again. And the new "campaign CEO" is the executive chairman of Breitbart News, Steve Bannon, who thinks that Fox News is too liberal.
As always, Trump surrounds himself with sycophants, with Breitbart being a primary cheerleader for Trump's agenda of nationalism, racism, and sexism. "Bannon has convinced Trump that rest of campaign needs to be bare-knuckles brawl, w/ full-bore populism/movement politics" and "brutal fights with Clinton". If you thought Trump was ugly before, you ain't seen nothing yet.
---
Also published on Medium.