A poll done by The Guardian concludes that Donald Trump is fueling an especially deep split among married couples. In particular, men are pressuring their wives to vote for Trump, but in many cases the wives are not obeying. At least three door-to-door political canvassers have reported similar stories: after the canvasser leaves a house where the husband said he was planning on voting for Trump, the wife chases the canvasser down the street to say that under no circumstances would she do the same.
Estimates say that twice as many couples are voting for different candidates than did in 2012. Other polls point to a reason — among Republican women (married or not) Trump is running nearly 20 points behind Romney (in 2012), McCain (in 2008), and Dubya (in 2004).
In addition to the sexism and misogyny exhibited by Trump, women object to him on other grounds. One poll respondent said "I don't even want my child to listen to his speeches, and yet he's supposed to be my president?"
In some cases, men weren't even aware of the split. A few years ago a poll showed that 72% of men said with confidence that their partner would vote the same way as they did, but only 49% of women said the same thing. And that math just doesn't add up. They call this the "sure, honey" factor. Men assume who their wives will vote for, but women just respond "sure, honey" to avoid conflict.
But with this election, the split is more out in the open. Some women are threatening "Vote Trump, get dumped" to their husbands. Others are withholding sex until their spouse changes their vote.
The one thing that everybody can agree on is that Trump's campaign is bad for marriage.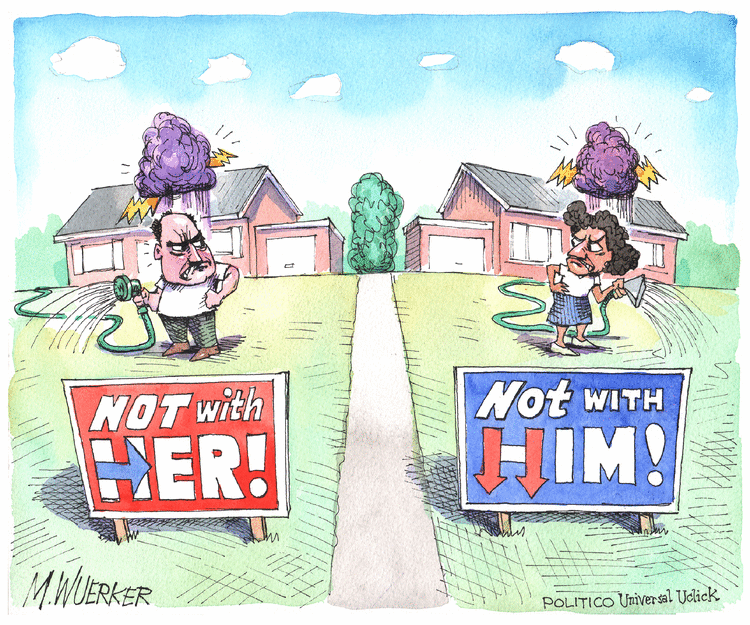 © Matt Wuerker
---
Also published on Medium.