Huffington Post published a really great rant about (what else?) Donald Trump. The author is a lawyer who deals with health care issues, and he starts off by ripping the assurances that Trump has offered to prove he is healthy:
I first read Trump's physician's report of December 15, 2015, you know, the one by scraggly and longhaired Harold Bornstein, the duly licensed gastroenterologist. The letter lists the doctor's credentials that are out of date. It was also one of the poorest, less than one-page letters filled with unheard of adjectives to describe the physical condition of a patient, misspellings and non-specific findings that only a careless physician, or a quack, would write that I have ever seen.
Then it gets better:
Trump then takes his medical condition to new heights by showboating it on the Dr. Oz TV show, as if following a well-scripted writing. Recall, Oz asks him about why he won't show his medical records. Then, as if on cue, Trump looks to the audience and asks whether he should; they respond, and…drum roll please…he takes from his suit pocket a document that he then gives to Oz to look at. Hollywood at its best, huh? Trump no doubt believes that the American voter he wants are those that went gaga over his Apprentice reality shows, so they obviously will become "verclempt" about his revealing more of his health via Dr. Mehmet Oz. Trump is a showman, a carny, well, a con, thinking maybe his voters consider him the messiah that will provide them manna from heaven once he is in office. Not.
But he keeps going. You should go read it yourself, but I'll at least give you his last line:
As an independent like myself, I would think others similarly positioned would consider vomiting a much preferable experience than hearing the words, President Trump.
There is one thing I want to disagree with in his otherwise wonderful rant. His title is "Trump Will Win By Dumbing Down The Electorate — Is Vomiting Preferable?". Other than his apparent thing about vomiting, he is implicitly asserting that the electorate is being dumbed down.
I disagree. The electorate has been dumb for a long time. The main problem isn't that they are dumb, but that most people really don't care that much. They certainly don't care enough to actually pay much attention to the election. And who can blame them when elections seem to go on forever.
No, I think the thing that has been dumbed down is the media. The media used to take on the job of paying attention for the American people. But no more. Now that TV news is judged by how profitable it can be, there is no need to provide its former responsibility of actually providing news. Why spend time and money doing in-depth investigative journalism when you can just repeat tweets?
If we had a real fourth estate in this country, they would have laughed Donald Trump out of the race a very long time ago. Instead, all they can do is talk about him, because the more they talk about him the more attention they get and the more money they make.
It is almost a form of bribery. The media is rewarded for saying the things that get the most attention — the truth be damned. So when the Republican noise machine cranks out the latest scandal, they follow it. The latest example is Trump still pretending to be a birther. In an interview, he refused to admit that Obama was born in the US. And of course it is all over the news.
When will the media fall out of love with Trump? When he stops making money for them. The media should be ashamed of themselves.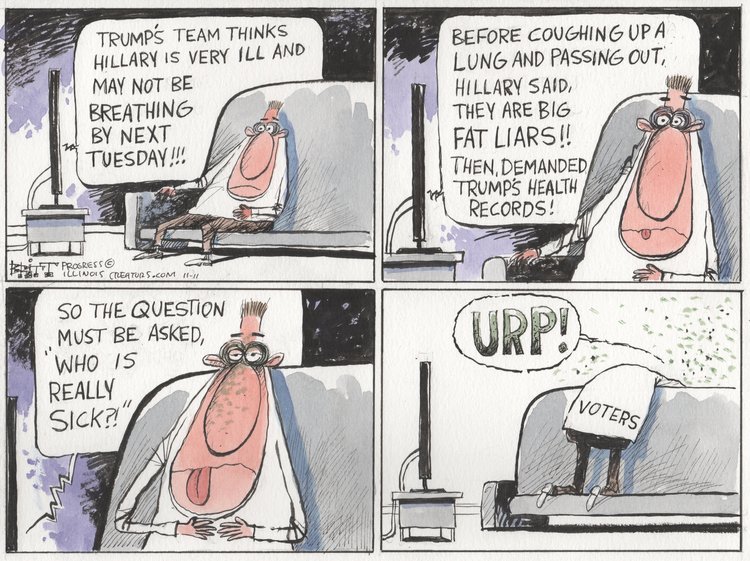 © Chris Britt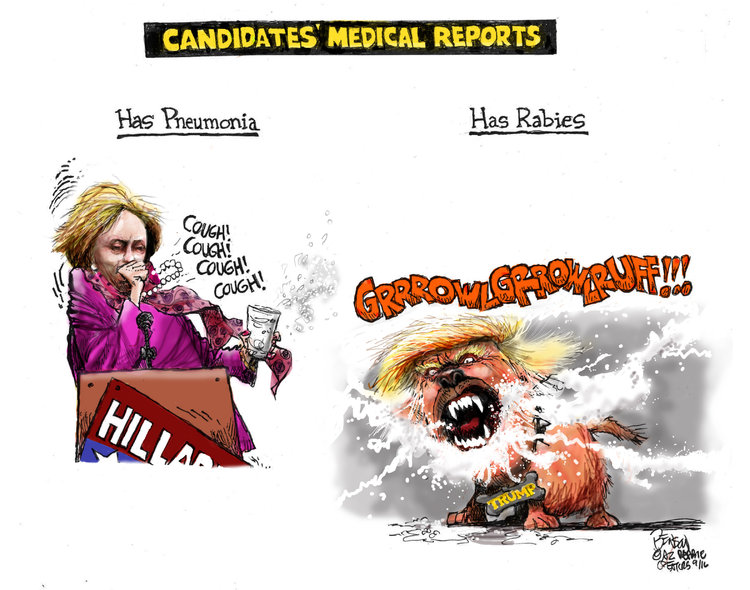 © Steve Benson
UPDATE: Matt Taibbi just wrote an article disagreeing strongly with my arguments in this post. His point seems to be that the media is dumbing down because that's exactly what we (the news consuming public) want:
One of the main reasons the news media has been dumbed down over the years is because audiences have consistently rejected smart, responsible journalism in favor of clickbait stupidities like "Five Things You Didn't Know About John McCain's Penis" and "Woman Strips Naked in Front of Police Officers. You Won't Believe What Happened Next." The Bachelor and Toddlers and Tiaras crush Frontline. And people wonder why Donald Trump gets a lot of coverage?
Taibbi, (as always) make a good case, but I still disagree. He is implicitly arguing that money and eyeballs is what determines what is news. Is being this crass a requirement? I remember when journalists felt they had a mission that wasn't just getting the most eyeballs.
He is also ignoring the fact that the media itself has a profound influence on what people want to hear and consume, especially in this age of the echo chamber. Something seems more interesting if everyone is talking about it.
---
Also published on Medium.