It turns out that when Donald Trump Jr. posted a photo to Twitter comparing Syrian refugees to Skittles candy, he was posting a bowl of irony. Just to remind you, here is the original tweet: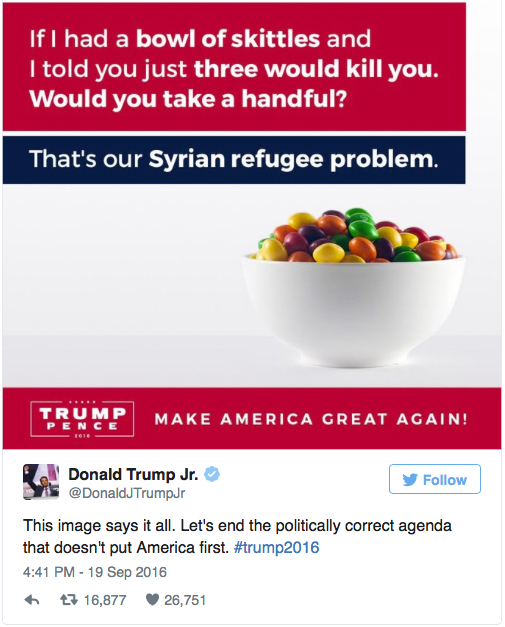 It turns out that Trump Jr. (now widely nicknamed "Skittles") stole the image he used, so it was he who was ironically committing a crime while accusing refugees of being murderers and criminals. But the real irony is that the stolen image he posted was actually taken by a former refugee.
In 1974, when I was six-years old, I was a refugee from the Turkish occupation of Cyprus so I would never approve the use of this image against refugees. … I have never put this image up for sale. This was not done with my permission, I don't support Trump's politics and I would never take his money to use it.
Yes, the image does say it all, but probably not in the way Trump intended.
The original tweet has been widely mocked. The Guardian points out that since Trump Sr. has advocated using racial profiling to vet incoming refugees, you could solve the problem just by removing the brown Skittles. Well, except that there are no brown Skittles. Being British, they also make fun of Trump's grammar and spelling, saying Trump's tweet "reads like Christopher Walken dictated it while rollerskating down a cobbled hill".