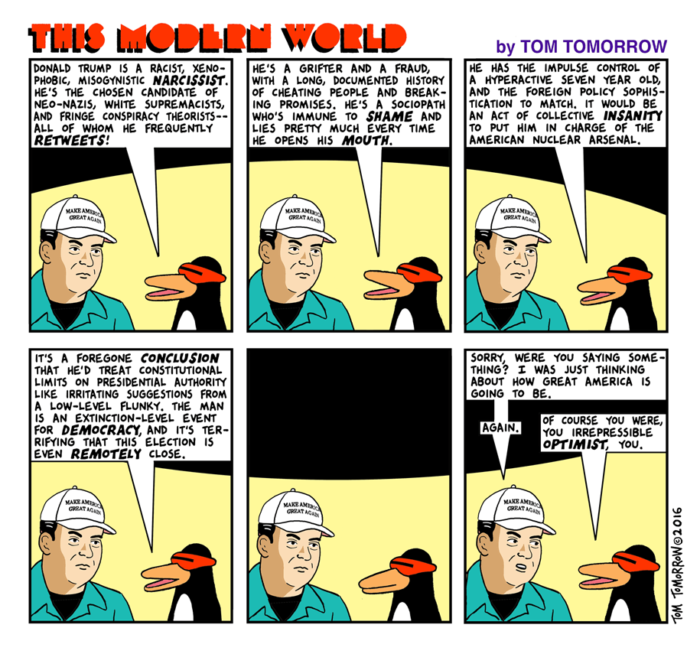 © Tom Tomorrow
How many people were brave enough to watch the first debate? What were your impressions? Will Trump show up for the rest of the debates?
Initial surveys show that 62% of viewers felt that Clinton won compared to 27% for Trump. However, there were more Democrats watching the debate, so we will have to wait a few days before making any more substantial judgement.
For now, the best indicator may be that the betting markets increased Clinton's odds of winning from 69% (just before the debate) to 73% (an hour after it ended).
UPDATE: The New Yorker has a good summary of the debate titled "Hillary Clinton Brings Out the Real Donald Trump". With his bragging or petulant responses and constant interruptions, Trump essentially admitted his guilt. When Clinton accused him of not paying any taxes at all, and of cheating his subcontractors and reneging on his business debts, Trump (again) interrupted and said "That makes me smart" — actually bragging that his greed and mendacity are somehow to be admired.
UPDATE 2: The late night shows aired live after the debates. Seth Meyers joked "After tonight's debates several FOX News analysts said that Hillary Clinton is the clear winner. Maybe global warming is a hoax, because hell has frozen over."
Stephen Colbert riffed on both debaters. On Clinton: "Hillary was so prepared my new nickname for her is Preparation H. In the primaries, she already proved she could soothe the Bern." On Trump, who bragged that his temperament was his best asset: "Of course, we'll never know if his temperament is really his strongest asset because he won't release his tax returns."
UPDATE 3: An hour after he said (during the debate) that not paying taxes makes him smart, he denied saying it.
---
Also published on Medium.