The Republicans just pushed through a law that will allow victims of 9/11 to sue Saudi Arabia in US courts. The law would allow courts to waive claims of foreign sovereign immunity (because terrorism). Obama vetoed it, and the Republicans swiftly overrode his veto.
There's just one huge problem. The new law will open up the US to lawsuits for things we have done in other countries. You know, like invading Iraq on false pretenses for starters. Not to mention torturing people. And a long list of other things we have done around the world, where the US is at least as complicit as Saudi Arabia was in 9/11. The bill will also of course make it more difficult for Saudi Arabia to continue helping us fight terrorism and the Islamic State.
Now here's the ironic part. The Senate majority leader, Mitch McConnell is now blaming the White House for not warning the Republicans that this bill could have these disastrous unintended consequences.
Thanks Obama.
You know, the problem isn't just Trump. It is time to take a long close look at the Republicans and their "shoot first and ask questions later" attitude. They were in such a hurry to pass this bill to make it look like they support 9/11 victims they didn't pay any attention to what a disaster it would turn out to be. And now they are trying to blame it on Obama.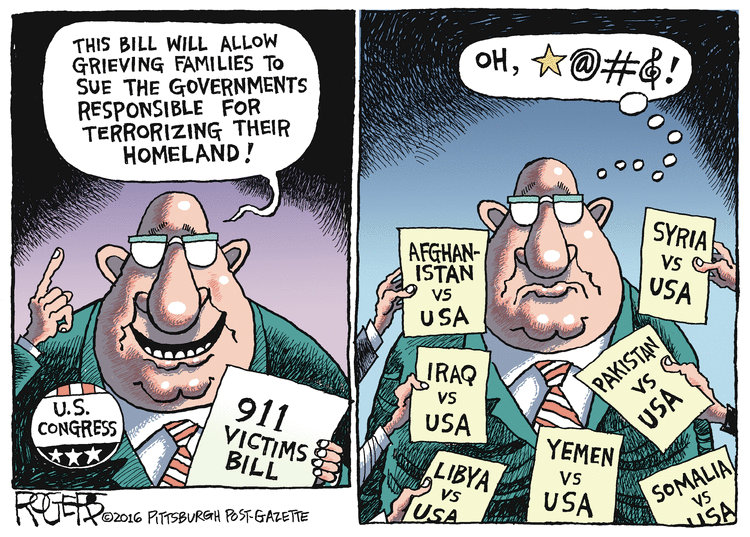 © Rob Rogers
---
Also published on Medium.