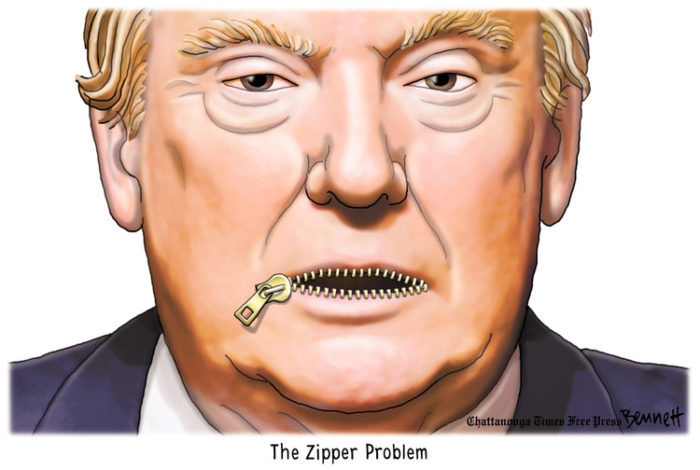 © Clay Bennett
After the "Fury in Missouri" debate it is clear that Trump cannot control his own mouth. Threatening to throw Clinton in jail may play well with his angry supporters, but it makes him look more like a tin-pot dictator than an actual presidential candidate. And it has legal experts, including Republican prosecutors and former Justice Department attorneys, appalled.
Trump excused his bragging about sexually assaulting women as "locker room talk", scores of professional athletes disagreed. For example, Oakland A's pitcher Sean Doolittle said "As an athlete, I've been in locker rooms my entire adult life and uh, that's not locker room talk."
And what was it with the sniffles again? That's twice now. Someone asked Carrie Fisher, known for her former drug addictions, and she responded that Trump is "absolutely" a coke head. That could explain a lot.
Meanwhile, Republican politicians are running away from Trump in droves and the GOP cut off funding for Trump. Even his vice presidential running mate Mike Pence cancelled a fundraiser scheduled for the day after the debate, while some Republicans are pressuring him to quit the ticket entirely.
But maybe the stupidest thing Trump said was to challenge the media to find more video dirt on him. The last person who did that was Gary Hart, who was quickly taken out of the presidential race.
May the same thing happen to Trump.