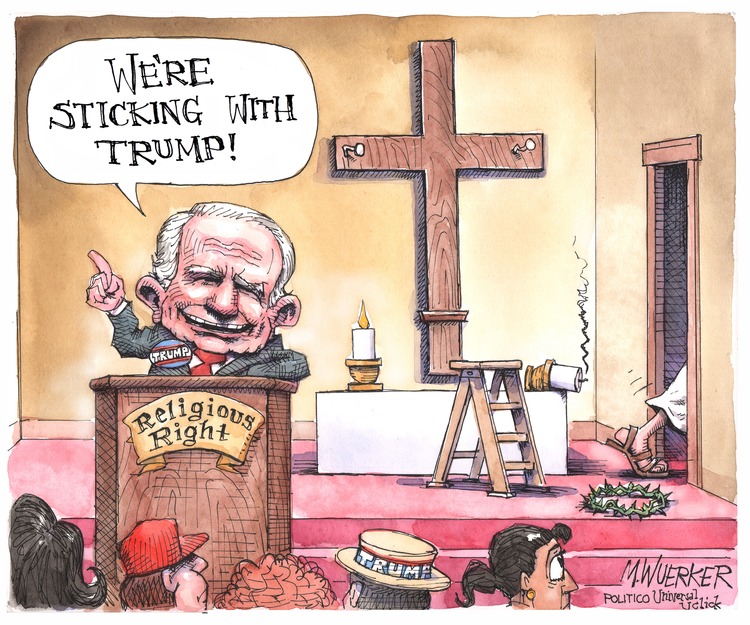 © Matt Wuerker
The George W Bush administration courted the religious right, but then pretty much ignored them. At the time I concluded that Dubya was playing the religious right for fools.
But watching how the "religious" right fell in line behind Trump is changing my opinion. Just look at Trump. Can you imagine anyone less religious? When was the last time he even attended a church?
He may be the least religious person imaginable. He breaks the ten commandments for breakfast, and then brags about enjoying the seven deadly sins after lunch. Graven images? check (of himself of course). Stealing? check (from his subcontractors). Adultery and coveting his neighbor's wife? check and check. Bearing false witness? only when his mouth is moving. Lust, Gluttony, Greed, Sloth, Wrath, Envy, and Pride sound like Trump's tweeted version of his resume. Trump spent the 1990s throwing large parties featuring cocaine, older men, young girls (as young as 14 and 15), and "sex, a lot of sex".
It seems like it is the leaders of the religious right — people like Ralph Reed, Jerry Falwell Jr., Tony Perkins, and Pat Robertson — who have been playing their followers for fools all along.
Even conservatives have noticed this. Conservative site Townhall has an interesting article titled "How the Religious Right Embraced Donald Trump and Lost its Moral Authority".
Townhall points out the obvious hypocrisy of Ralph Reed, who during Bill Clinton's impeachment declared that "we will not rest until we have leaders of good moral character". Reed now chairs Trumps religious advisory board, and dismissed the tape of Trump bragging about sexually assaulting women as not an "important concern".
And Jerry Falwell Jr., the president of Liberty University, who endorsed Trump saying "Donald Trump lives a life of loving and helping others as Jesus taught". Even Donald Trump wouldn't believe that.
In 2011 a poll asked white evangelicals if they agree that immoral politicians can still fulfill their duties. Only 30% said yes. But the same question was asked last month of the same people, and 72% said yes.
Hopefully, the rampant hypocrisy of the religious right will bring about their own demise. Already a civil war has broken out between supporters of Trump and the growing contingent of "Never Trump" religious leaders, as evangelical voters are starting to ignore their leaders and reconsider their support for Trump.
I mean, what is a religious voter to do when faced with "a thrice-married, epically greedy, congenitally dishonest serial adulterer who exalts the rich while heaping scorn upon the vulnerable." And who is clearly playing the religious right for rubes.
I'll just be happy if we get back to the old days when religious leaders kept out of politics most of the time.