Two sources within the FBI, speaking off the record and anonymously, told Fox News that the investigation of the Clinton Foundation is likely to lead to an indictment.
Considering that the FBI has no power to issue indictments (that is done by a Grand Jury), and that there is no evidence of wrongdoing with the Clinton Foundation (granting meetings to donors is not illegal), this sounds very much like a dirty trick just before the election.
The FBI is not supposed to comment publicly on ongoing investigations, and certainly not just days away from the election. Doing so is a violation of the Hatch Act. As Electoral Vote puts it "Comey has very clearly created an environment where agents (some of them, at least) are putting partisanship over professionalism." When law enforcement agencies become political tools, that is a strong indicator of a "banana republic".
Instead, these anonymous leaks are actually an indictment of James Comey, who has lost control of the FBI. As director, the buck stops with him. And considering that the FBI director can be fired at any time by the president (either this one or the next one), it seems likely his days are numbered.
UPDATE: The Guardian has an inside look at what is going on at the FBI, saying "The FBI is Trumpland".
The currently serving FBI agent said Clinton is "the antichrist personified to a large swath of FBI personnel," and that "the reason why they're leaking is they're pro-Trump."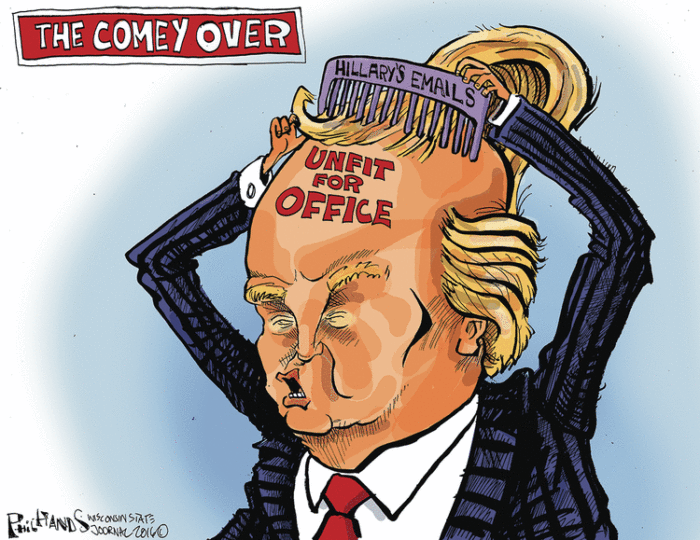 © Phil Hands