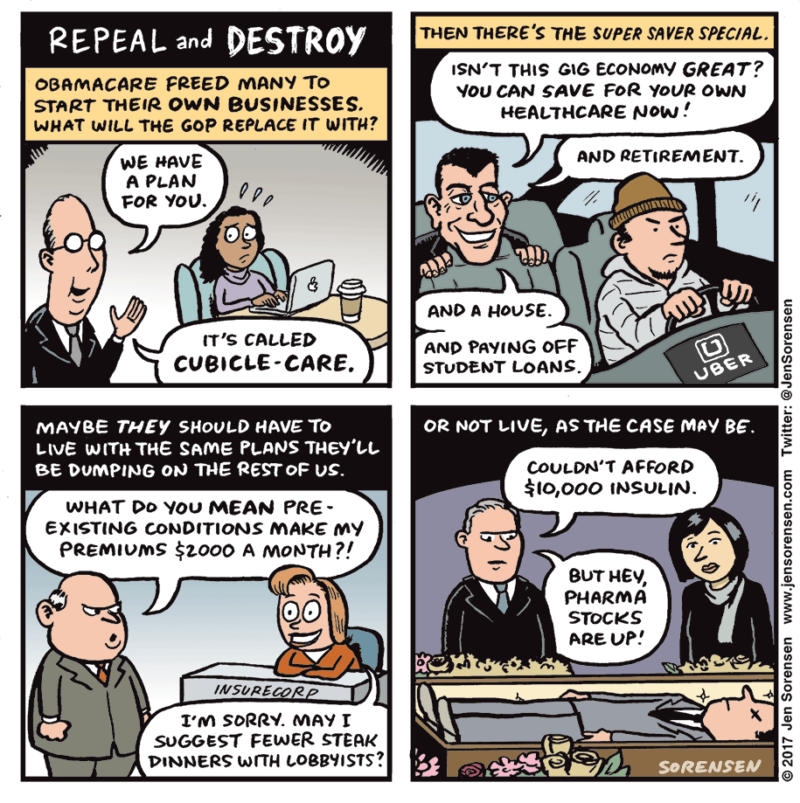 © Jen Sorensen
As someone who has spent a large part of my life starting new businesses, I know that repealing Obamacare without replacing it with something better will make it difficult for people to leave their jobs (with their health insurance) and start new companies. This, in turn, will strangle our economy. As politicians know, small businesses create most of the jobs in this country (and definitely not tax breaks for large corporations).
Ironically, Jen Sorensen, the creator of this comic, has the same problem. Here's what she says about it:
I realize Obamacare wasn't perfect — my own premiums have spiked, in part because so many people in Texas had gone without coverage for so long that they overwhelmed the system. But I'd still take the Affordable Care Act over what we had before any day. As a self-employed person, health insurance has been the bane of my existence for much of my career. For a few blissful years, I didn't have to worry about it. Now I'm back to worrying. Why does Trump hate small businesspeople?

Of course I wish we had universal health care like most other industrialized nations on earth, but that wasn't politically possible at the time Obama sought reform, and something had to be done. The ACA saved lives, and for that I'm grateful.
---
Also published on Medium.