Donald Trump's proposed budget will increase military spending by $54 billion, while slashing the State Department (and almost certainly lots of other things).
But we already spend an insane amount of money on the military: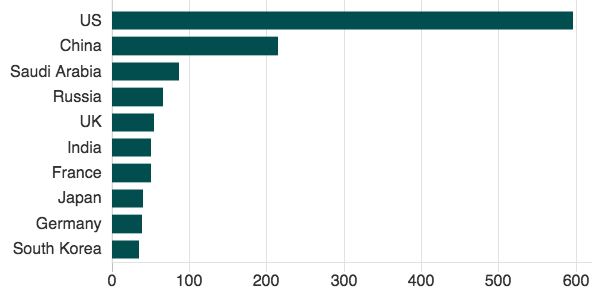 Even without the Trump bump, that's four times more than the #2 country. In fact, the entire world (not counting the US) spends a grand total of around $950 billion. Trump's proposed increase alone is almost equal to Russia's entire military budget.
But what's really ironic about this is that Trump has repeatedly said that he wants to significantly reduce our military commitments to other countries (including to NATO), so military spending should be going down.
Not only that, but a hunk of our current military spending is for tanks, aircraft, and ships that the Pentagon says it doesn't even need. Why? Because it makes money for companies, who turn around and donate lots of money to Congressional campaigns.
Perhaps that is the answer to this riddle — the increased military spending is merely corporate welfare. After all, George W Bush's Vice President Dick Cheney was the former CEO of Halliburton, and starting the war in Iraq resulted in around $40 billion in contracts for his former company.
Trump says it is all about making us safer, but does anyone really believe that spending such huge amounts of money on weapons (including nuclear weapons) is going to make us safer?
Besides, I don't think Trump cares whether we are actually safer. If he did, he wouldn't destroy the State Department.
---
Also published on Medium.