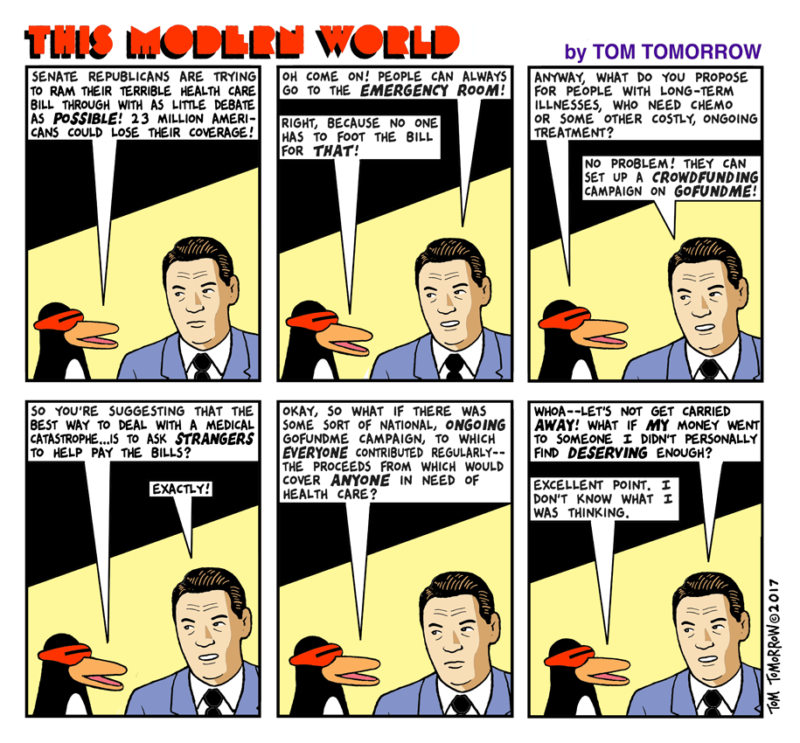 © Tom Tomorrow
The Republican health care bill is wildly unpopular with Americans. There have been two recent polls: in one 16% approve to 58% disapprove. The other shows only 12% approve, while 53% of Americans want the Republicans to either leave Obamacare alone or fix any problems it might have.
So if Trump repeals Obamacare like he promised he would, quite a few Americans will be pissed off at him, especially those who lose their insurance, see their premiums increase, or their coverage get slashed. But if Trump doesn't repeal it, his base will revolt.
Is there a solution for Donald Trump? If he were a thoughtful person (hah!) he would talk to his base and find out what they want. I suspect they just want to kill everything that Obama did, but they still want good health insurance for less money. That's exactly what Trump has promised them: "No cuts to Medicaid", "No one will lose coverage", "Nobody will be worse off financially", and "Everybody's going to be taken care of".
Sound impossible? It isn't. Trump just has to get single-payer passed. Of course, he shouldn't call it single payer, he should call it "Medicare for everyone". It wouldn't be that hard. The bill would only need to be a few pages long. Democrats would support it, and so would many Republicans. Yes, taxes would need to increase to cover it, but if Trump were clever (hah again!) he would set it up so that each person's Medicare taxes would increase about the same amount that they currently pay for health insurance, so it would be financially neutral. Yes, the doomed health insurance companies would hate it, but Trump would be wildly popular. It might even be the worst thing that ever happened to the Democrats.