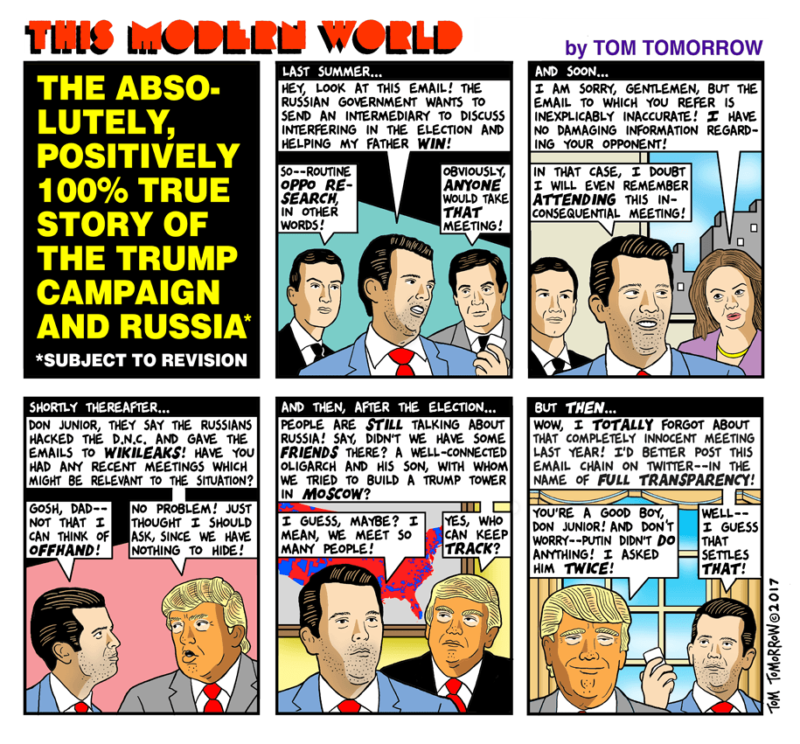 © Tom Tomorrow
Why do Donald Trump supporters believe anything he says? How can they believe such a flimsy story about meeting with the Russians?
Even Trump jokes about his constant habit of lying. On Monday at an event at the White House, Trump said:
We've signed more bills — and I'm talking about through the legislature — than any President ever. For a while Harry Truman had us, and now I think we have everybody, Mike. I better say 'think', otherwise they'll give me a Pinocchio, and I don't like those — I don't like Pinocchios.
Pinocchios are what the fact checkers at the Washington Post awards to lies.
Of course, it was trivial for fact checkers to verify that Trump has signed fewer bills than almost all recent presidents. Trump has signed 42 bills so far. At this point in their presidency, Jimmy Carter signed 70, George H.W. Bush signed 55, Bill Clinton signed 50. Trump has not even caught up to the number of bills that Harry Truman had signed at Truman's 100 day mark. All but one president between 1901 and 1949 beat Trump as well.
Minutes later, Trump continued lying. He lied about how many mining jobs have been created. And then just to make sure, he repeated the lie.
At this point, one wonders what it would take for Trump's supporters to realize that he lies continuously and arbitrarily. He lies about things that nobody even cares about. Why tell the truth when it is easier to just make shit up all the time.
But this is serious. As long as Trump's base believes anything he says, the Republicans will not dare impeach him (even though it is clear that many Republicans in Congress would love to do so). Hell, they are too chicken shit to even disagree with Trump most of the time, knowing that they will just piss off Trump's supporters.
So, what will it take before Trump's base realizes that they are being conned long and hard? What will it take to end this national nightmare?
---
Also published on Medium.