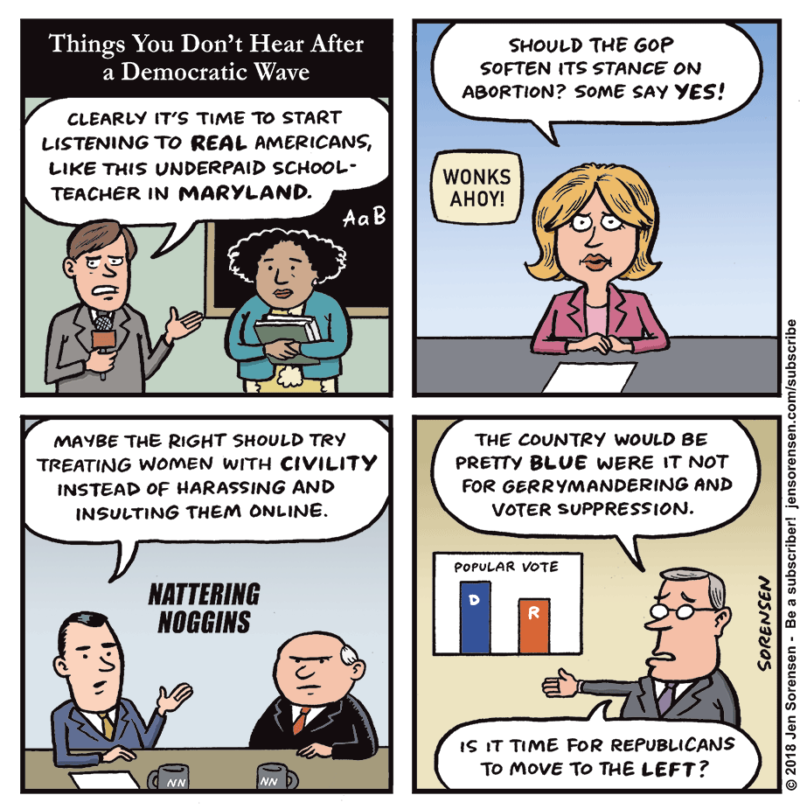 © Jen Sorensen
It's true. After the 2016 presidential election all of the news media wanted to know how they were so wrong in assuming that Donald Trump had no chance of becoming president. I'm not sure why. Heck, even Trump himself was surprised that he was elected.
The author of this comic, Jen Sorensen, commented on her own comic:
While I've seen some news stories about women voters, there's been nowhere near the same adulation and obsessive fawning as there was over male Trump voters in 2016. The very notion of "authenticity" is gendered male, and Dem-voting women are not seen as "real" Americans by many in the media.
Now that the 2018 election resulted in a huge 40 seat gain for Democrats in the House of Representatives, are the media trying to figure out who all these people are who voted that way? Of course not, because they expected a blue wave for the Democrats. We even saw some of the opposite, with media initially saying that the expected wave didn't materialize. It is all about expectations.
Of course, we never expected Trump to admit that the Democrats romped all over the Republicans in the 2018 election. Unlike Barack Obama, who after the 2010 midterm elections admitted that the Republicans had given his party a "shellacking".
---
Also published on Medium.