On Monday, Donald Trump announced his "timely and effective response to the coronavirus". It is "a possible tax relief measure". That's it. Seriously. He's going to talk to Republicans in Congress and ask them to cut taxes. Again. He cares only about goosing the economy, not about the people who are actually sick or dying.
Could anyone possibly be more tone deaf and insensitive?
Well, of course! Also on Monday, Health Secretary Alex Azar stressed in an interview on Fox News that the government is taking the pandemic seriously, saying the coronavirus "is a very serious health problem. Nobody is trying to minimize that."
Well, nobody except Trump. Soon after that, Trump took to Twitter and downplayed the seriousness of the people dying from the coronavirus:
So last year 37,000 Americans died from the common Flu. It averages between 27,000 and 70,000 per year. Nothing is shut down, life & the economy go on," he said. "At this moment there are 546 confirmed cases of CoronaVirus, with 22 deaths. Think about that!
Yeah, life goes on, at least some of it. And he had to mention his precious economy, which dropped so fast Monday they had to shut down trading on the stock exchange for a while.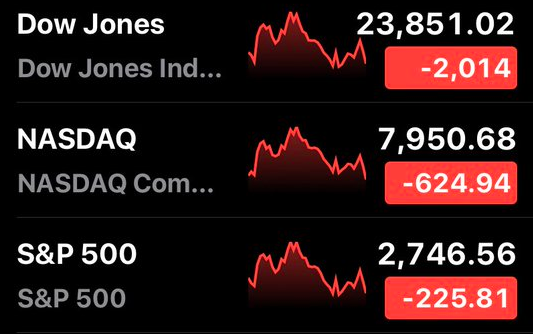 Trump also told us that we should be grateful, because the price of gas is going down (because fewer people are using it).
However, because of a huge US investment in shale oil, we are no longer a net oil importer, so the old conventional wisdom that cheaper oil is good no longer holds. As an oil exporting nation, Monday's stunning 25% drop in oil prices will actually hurt our economy because shale oil costs more to produce than they can sell it for now. Or as one investment strategist put it more bluntly, "You've got to remember, what Saudi Arabia and Russia are doing is trying to put the shale producers out of business in the U.S. because they are the ones who are increasing the world's supply."
What's next? Will Trump have to bail out the oil companies?