It's enough to take your breath away.
Five years ago as part of its efforts to prepare for a global pandemic (such as the one we are facing now), the Obama administration signed a $13.8 million contract with a Pennsylvania manufacturer owned by Dutch multinational corporation Philips to design and produce "a low-cost, portable, easy-to-use ventilator that could be stockpiled for emergencies."
You might think those would come in handy right about now. But there is not a single one of these ventilators in the US stockpile, even though the US ordered 10,000 of them last September.
The problem is that because the ventilators were developed using funds from the government, the US pays $3,280 each for them. Instead, Philips (under its brand Respironics) has been producing and selling them on the open market. And last week, due to the current high demand, Philips hiked its price. Here's a screenshot for one of these ventilators from a medical supply company on Staten Island, in the heart of the area with by far the largest outbreak of COVID-19 in the US, with 2,400 deaths.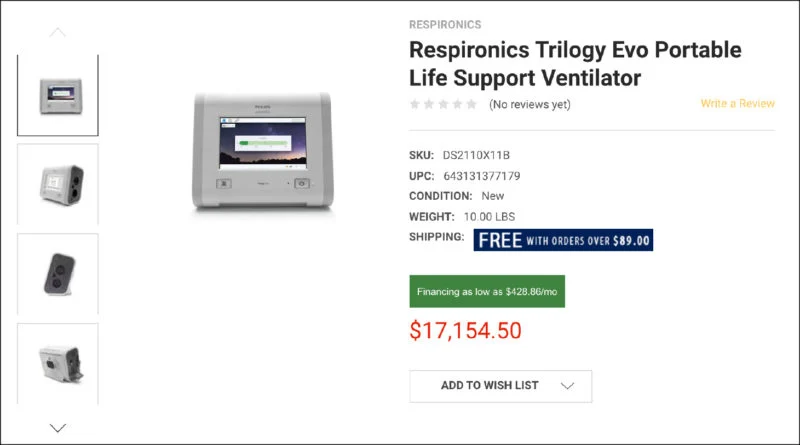 According to Philips, the company has no plans to even begin producing these ventilators for the US until 2021. Instead, Jared Kushner is negotiating with Philips to produce 43,000 more complex and expensive ventilators for the US.
On Feb 10, the Trump administration hailed the Philips ventilator it had funded as a breakthrough for pandemic preparedness, saying "This game-changing device, considered a pipedream just a few years ago, is now available at affordable prices to improve stockpiling and deployment."
Less than two weeks later, the government approached Philips with an urgent request to make these ventilators (that the Trump administration claimed were already available). On March 10, Philips agreed to supply the ventilators "as soon as possible". However, in a subsequent statement, Philips admitted that it only committed to meet the original contract deadline of 10,000 ventilators by September 2022. Could it be that Philips is more interested in producing and selling the more expensive ventilators?
Donald Trump invoked the Defense Production Act last Friday, whose purpose is to compel companies to provide needed equipment and supplies in case of an emergency (and will cover any losses sustained by the company). Considering that ventilators are the most important thing keeping victims of COVID-19 alive, you might think that it would make sense to get the ventilators they already ordered, but you would be wrong. Instead, the government has been "remarkably deferential to Philips".