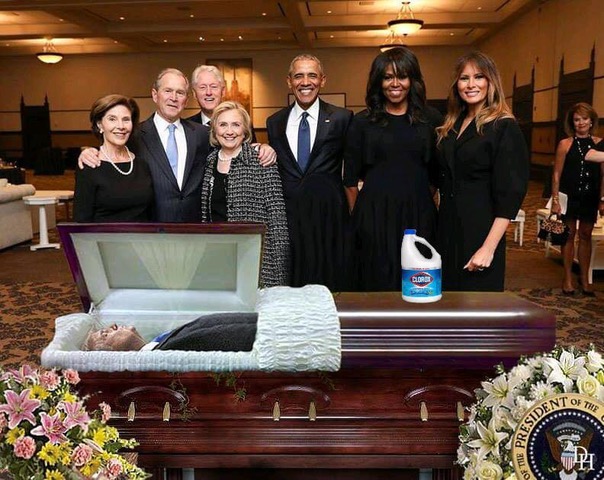 Yes, Clorox really does taste that bad…
[And yes, this photo is based on one taken at Barbara Bush's funeral. It is ironic that Donald Trump was added to a photo in which he didn't originally appear.]
In other news, The Lancet, the highly regarded British medical journal, says that "Americans should oust President Trump from the White House and elect a leader who will support – rather than undermine – public health experts who are battling the COVID-19 pandemic." They go on to say that the Trump administration's actions are "dangerous for both the U.S. and the world."
Americans must put a president in the White House come January, 2021, who will understand that public health should not be guided by partisan politics.
The US is by far the worst-hit country in the world, with more than 1.4 million confirmed cases and 85,000 deaths from COVID-19. The Lancet calls the Trump administration's response to the crisis "inconsistent and incoherent".
The Administration is obsessed with magic bullets — vaccines, new medicines, or a hope that the virus will simply disappear. But only a steadfast reliance on basic public health principles, like test, trace, and isolate, will see the emergency brought to an end, and this requires an effective national public health agency.
Under Trump's leadership, the US Centers for Disease Control and Prevention (CDC), which was once "the gold standard for global disease detection and control" has sunk to being "ineffective". The administration has repeatedly undermined the leading US authorities on infectious diseases, and The Lancet says "The CDC needs a director who can provide leadership without the threat of being silenced."