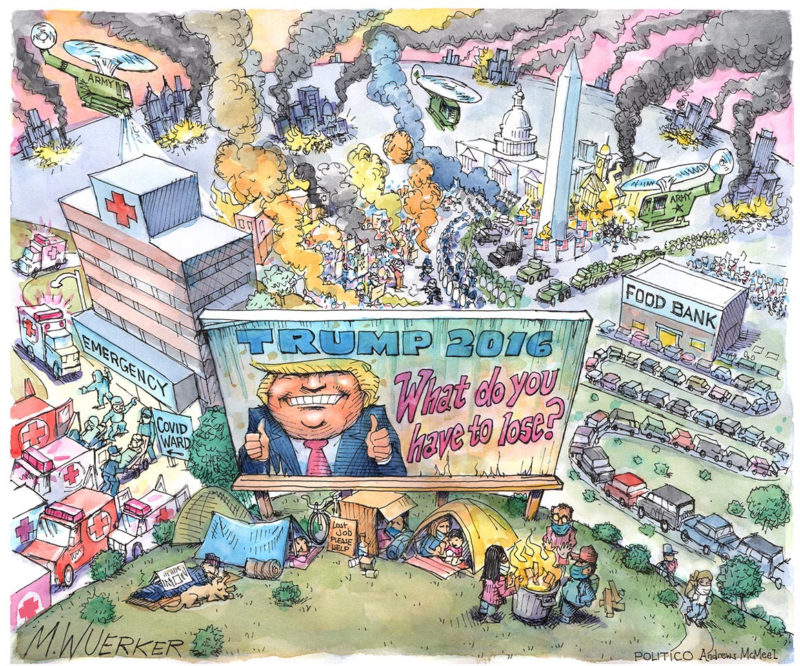 If you think things are bad now, remember that as Donald Trump gets more and more desperate to win the upcoming election, things will likely get more and more unpleasant.
In fact, they are already getting worse. In the first week of June already, 14 states and Puerto Rico have recorded their highest-ever seven-day average of new coronavirus cases since the pandemic began, Right now is the time those states — Alaska, Arizona, Arkansas, California, Florida, Kentucky, New Mexico, North Carolina, Mississippi, Oregon, South Carolina, Tennessee, Texas and Utah — should be instituting strict measures to contain the spread of the coronavirus. We seem to have completely forgotten how quickly the virus took off in March, so instead most of these states are opening things up even more, with Trump playing the cheerleader to eliminate crucial restrictions.
Trump is already planning on restarting his in-person rallies in the next two weeks. His campaign manager released a statement saying:
Americans are ready to get back to action and so is President Trump. The great American comeback is real and the rallies will be tremendous. You'll again see the kind of crowds and enthusiasm that sleepy Joe Biden can only dream of.
Meanwhile, the massive protests over the killing of George Floyd, which have happened in all 50 states, are perfect breeding grounds for the virus. Tear gas and pepper balls that irritate the nose and lungs will add complications to those who contract the disease. These cases will start to show up in the next two weeks after their incubation period, during which time infected people will be asymptomatic and spreading the virus even further.
And economists are predicting that the economy will not bounce back immediately, even if all restrictions are removed and everyone who can will go back to work. Many businesses have simply gone bankrupt and shut down, and business investment and consumer spending will take years to ramp up.