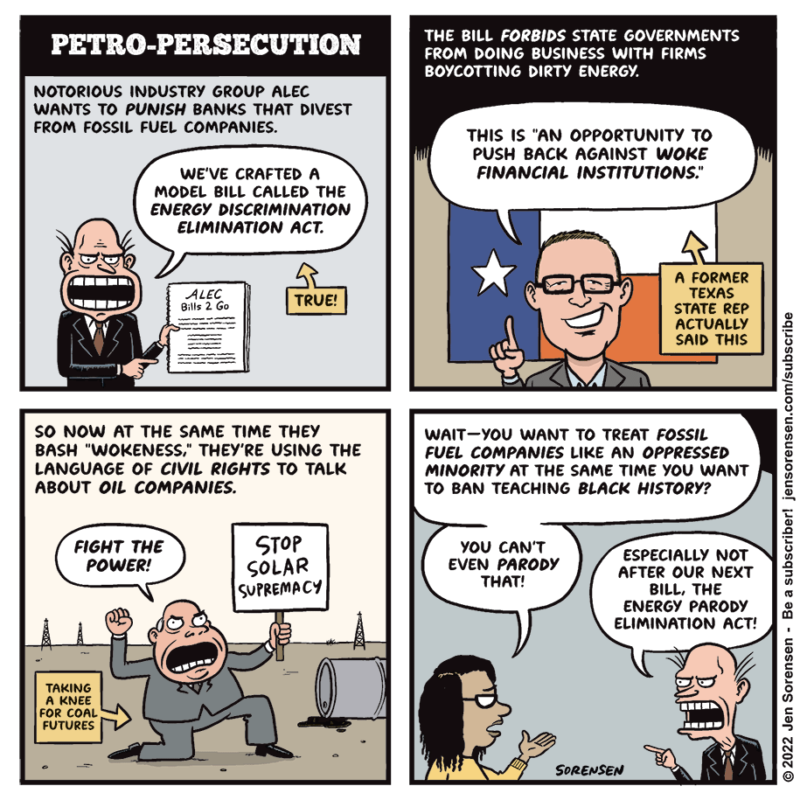 Sometimes, you just can't make this stuff up. Here is the first section of a model bill produced by the American Legislative Exchange Council.
1) fossil fuels currently supply more than 80% of the world's primary energy, and the U.S. Energy Information Administration still projects global consumption of fossil fuels to increase steadily at least through 2050;
2) restricting the supply of fossil fuels, without an immediate substitute for those fuels, only serves to raise prices on energy consumers, profoundly impacting the poorest among us;
3) denying financing to American and European fossil energy producers, who are among the most socially and environmentally responsible companies in the world, only serves to support hostile nations and less responsible producers;
4) banks are increasingly denying financing to creditworthy fossil energy companies solely for the purpose of decarbonizing their lending portfolios and marketing their environmental credentials, to the detriment of potential returns for their shareholders;
5) institutional investors are divesting from fossil energy companies and pressuring corporations to commit to the goal of the Paris Agreement to reduce greenhouse gas emissions to zero by 2050;
6) large investment firms are colluding to force fossil energy companies to cannibalize their existing businesses and direct time and attention away from increasing shareholder returns;
7) corporations are boycotting fossil energy companies by refusing to provide them with products or services; and
8) it is in the social and financial interest of energy producing states to combat attacks on their key industries and employees.
Of course they are doing this to help the poor! And did you know that our fossil fuel companies, including oil companies whose tankers create massive spills, and gas companies that do fracking, "are among the most socially and environmentally responsible companies in the world"? Who knew?
These selfless companies need protection against discrimination! This must be why we already heavily subsidize them with tax breaks and other corporate welfare to the tune of around $20 billion per year.