I swear, you can't possibly make shit like this up. According to The Guardian, Florida has rejected "54 math textbooks because they contain 'prohibited topics' including Critical Race Theory" (CRT).
Last year, Florida banned the teaching of CRT in public schools. In response, many people pointed out that CRT has never been taught in any public schools (it has only been a subject in some universities). In order to justify their actions they are making up examples of CRT and banning some textbooks.
But math textbooks? Why would any math textbook have anything about race in it? Maybe a computer textbook talking about "race conditions", or a physics textbook talking about "black body radiation", but those don't have anything to do with CRT.
In the novel 1984, George Orwell coined the term doublethink, which requires people to accept two conflicting beliefs as truth, despite them contradicting each other, their own memory, or even their reality. In the book, people accept doublethink due to peer pressure, to "fit in", or to be accepted as a loyal Party Member. Sound familiar?
In order to be a member of the Republican Party, politicians have to accept the doublethink that Trump won the 2020 election, and that evil Democrats are forcing schools to teach CRT. Any contradiction with the party line is akin to blasphemy, and will get the politician instant social disapproval, or even primaried. Even if they know it is a lie, they have to repeat the lie over and over.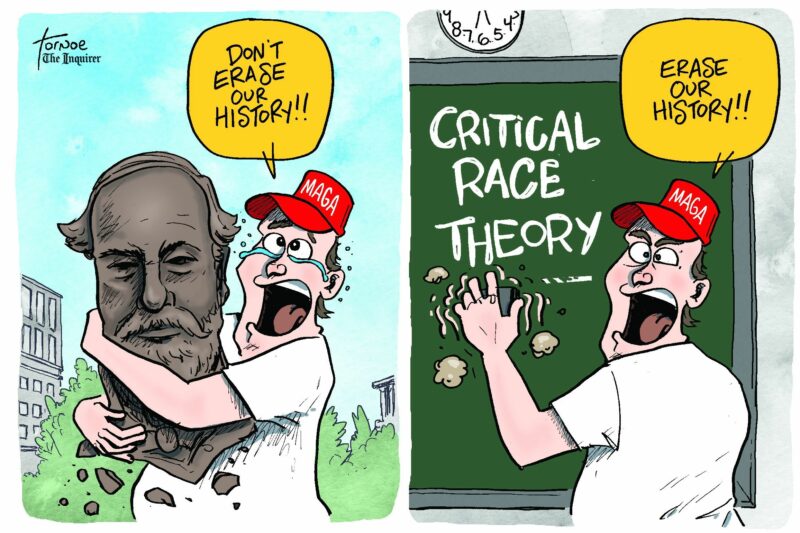 ---
Also published on Medium.