I'm sure most of you know about the Dominion Voting Systems lawsuit against Fox "News" Corporation, which claims that FNC defamed Dominion by spreading lies that Dominion's voting machines deliberately switched Trump votes to Biden votes. You probably even saw the recent news that everyone at FNC — including management from the top on down, to their talking heads — knew that they were deliberately spreading lies. Yes, that includes Tucker Carlson, Sean Hannity, Laura Ingraham, and the rest.
But FNC did it anyway, because after the 2020 presidential election, when FNC broadcast that Biden won in Arizona, their MAGA viewers started jumping ship for even crazier "news" organizations like Newsmax. FNC's ratings were plummeting, and their stock price dropped.
In desperation, FNC did what they always do. They made up lies (or spread them) that their Trump loving viewers wanted to hear. They were so desperate that when one of their reporters accurately fact checked a tweet from Donald Trump, saying (the truth) that there was no evidence of any voting hardware that deleted or lost any votes, Carlson told others, "Please get her fired. Seriously… What the f*ck? I'm actually shocked… It needs to stop immediately, like tonight. It's measurably hurting the company. The stock price is down. Not a joke."
Yes, it is all about ratings and money.
This is no surprise. Way back in 2003, two Fox News reporters were fired because they refused to add information to a story that they and FNC knew was false. The reporters sued under the whistleblower law, but FNC countered that the whistleblower law did not apply because there was no law, rule, or regulation against a news organization knowingly lying in a news broadcast. Fox was admitting they were knowingly lying, but that was their right. Sadly, FNC won the case.
In the current suit, FNC again claims that it is their right to lie as much as they want. Isn't it amazing that anyone actually believes anything they say? But this case is not about whistleblowing, it is about defamation, and the general consensus is that FNC will lose this case. I hope it costs them a lot of money and viewers. I'd be happy if it bankrupts them.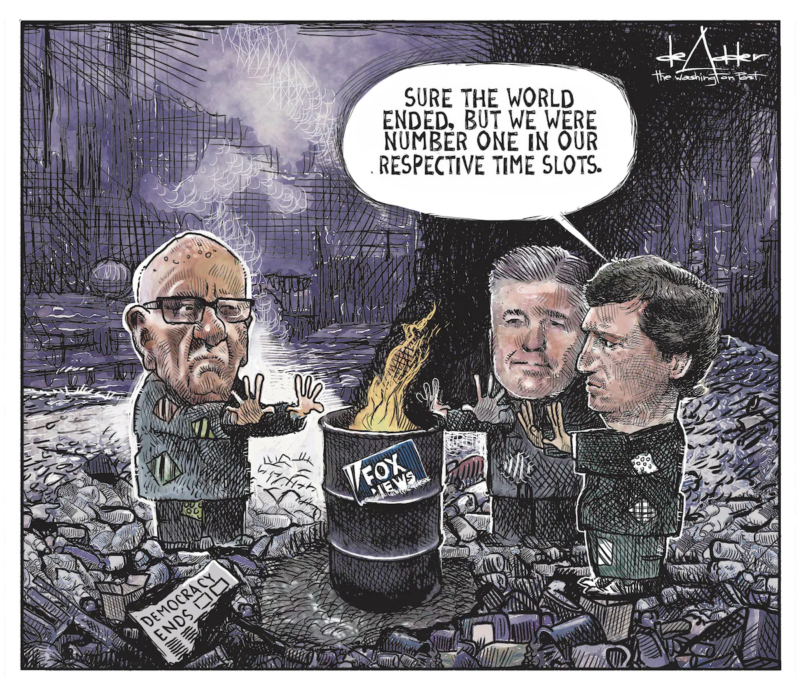 ---
Also published on Medium.