Yesterday morning, I published two cartoons about Donald Trump getting indicted. I actually wrote it the night before, but published it early the next morning. And lo and behold, a few hours later, Trump was indicted. Coincidence? I like to think not!
But I know what you are thinking. Trump has been able to wiggle out of just about everything in his life, and this time will be no different.
However, it is already different. Trump is now a loser. Since the Republicans became enthralled by Trump, they have lost the last presidential election, lost the Senate, and did much worse than expected in the House. I'd bet money that the majority of Republican politicians, who right now are screaming bloody murder about the indictment, are actually secretly hoping that Trump goes away forever. Their only concern is not upsetting his base.
Speaking of Trump's base, note that there were no violent protests yesterday from the MAGA faithful. After all, after the 2020 election Trump incited them to riot and foment insurrection at the Capitol, and a bunch of them went to jail for it. And people died. Maybe they are thinking twice now.
In addition, even back in 2016, the thing that got Trump in the most trouble was the Access Hollywood tape, containing the famous line "Grab 'em by the pussy." The current indictment is also all about Trump's philandering ways. That will piss off some voters.
Also, this is the first time that Trump has been in serious jeopardy. This is a criminal indictment which contains more than 30 charges. Yes, Trump has been able to weasel his way out of civil lawsuits by settling out of court, and also out of political charges, including two impeachments (which are political, not legal). But the only thing that needs to happen here is for a jury to convict Trump of a crime. If this indictment doesn't do the job, there are at least two more criminal indictments in Georgia and at the federal level, close to being announced, and which are slam dunks. After all, we have actual recorded phone calls of Trump attempting to overturn the election in Georgia, and the undisputed facts that Trump stole classified documents illegally, and then lied about it.
Today, Electoral-Vote has a very thorough article about why this time is different. If you don't believe me, give it a read. You'll be glad you did!
Even if Trump avoids going to jail (which I don't think he can do), the indictments and the evidence that those indictments present will alienate more voters. Trump lost the 2020 election, and even in 2016 he lost the popular vote, and the electoral college was very close. If Republicans still nominate Trump for the next election, it is very likely he will not only lose (bigly!), but the Republicans will also lose control of both houses of Congress. Trump will continue to soak his base out of their money, but even they will tire of that.
So let's celebrate the first indictment, and look forward to even more legal troubles for Trump.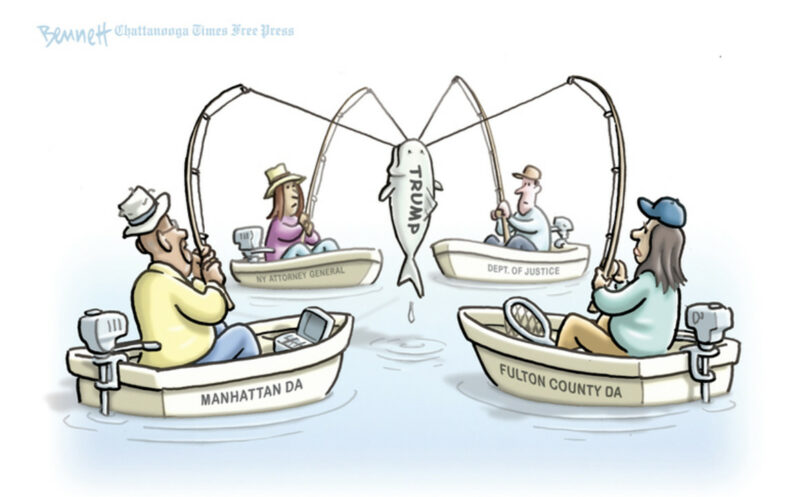 ---
Also published on Medium.