Hopefully you missed it, but Donald Trump had a lengthy interview with Tucker Carlson this week. And apparently, Jimmy Kimmel was not impressed. For example, Trump claimed that "the biggest problem we have in the whole world" is "not global warming. It's nuclear warming". There's just one problem with this problem. It doesn't exist. It's not even a thing. It is less real than "covfefe".
Kimmel comes right out and says it: "It did make one thing very clear: The fact that Donald Trump is a profoundly stupid person. I think it's important to remember that. He does not have the best words, he's not a stable genius, that mental competency test he's always bragging that he passed? It's something the average 7-year-old could pass."
There's so much more to this, and I suggest that you watch it.
It looks like the chickens are coming home to roost.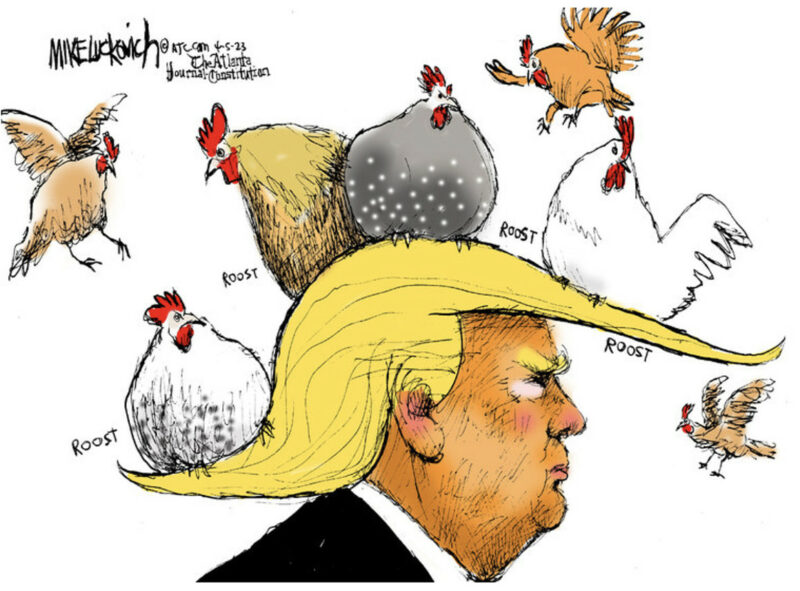 Not only that, but a new poll from ABC/Ipsos (done after the indictment) shows Trump with a favorable rating of 25%, and an unfavorable rating of 61% (with 13% with no opinion or don't know). I believe that is the lowest rating Trump has ever had. And that was before the cheese slipped completely off the Cheetos' head.