Florida is the state where tin-pot dictators go to die. Just ask Ronald D. DeSantis, who is about to have his future completely destroyed by Disney (the very model of a Mickey Mouse outfit). You don't mess with the mouse!
You have almost certainly heard about the fight between DeSantis and Disney.
DeSantis got Florida to pass a law prohibiting classroom discussion of sexual orientation and gender identity, popularly called "Don't say Gay". Did DeSantis miss the memo that gays now have rights?
Under pressure from their employees, Disney criticized that law.
DeSantis makes a mistake, writing, "If Disney wants to pick a fight, they chose the wrong guy." He also started calling the company names, like "Woke Disney".
At the behest of DeSantis, the Florida legislature — which was previously heavily gerrymandered by DeSantis, so much so that the Republican-controlled legislature balked but was overruled by the governor — started targeting Disney with extremely hostile measures. First they took away Disney's special tax district, something that is common in Florida (including Daytona speedway, The Villages, and hundreds of others).
Then DeSantis pushed through an "oversight board" to control Disney World, which was filled with his lackeys.
Disney quietly did an end-run around that board, which enraged DeSantis. The governor then went ballistic, threatening to reappraise the value of Disney World to raise its property taxes, imposing tolls on the roads that go there, and developing the surrounding land with annoying businesses, including a new state prison.
So today, Disney sued DeSantis. In their complaint, they point out that the First Amendment means "In America, the government cannot punish you for speaking your mind."
Let me just point out that Disney is the linchpin that turned Orlando into an international tourist destination. Disney World is the largest private employer in the state with 75,000 employees, paid $1.2 billion in state and local taxes in 2022, and they are very popular in Florida.
And yet, DeSantis went on the warpath against Disney simply because they dared to criticize DeSantis for passing an unpopular law. Like I said, DeSantis is a tin-pot dictator. He wants to control what teachers can say, what books can be read, and to destroy the freedom of speech. Republicans are supposed to be for small government, not taking over private businesses.
The lawsuit says that DeSantis created a "relentless campaign to weaponize government power against Disney in retaliation for expressing a political viewpoint." And all the evidence for this came right out of his mouth and pen.
I also want to point out that Disney is a huge company, and has some of the best corporate lawyers in the world. They held back to let DeSantis hang himself, and the governor and hopeful presidential candidate took the bait.
I can't imagine any way that Disney doesn't absolutely win this case, and on top of that, makes DeSantis look like the drooling idiot he is. Indeed, DeSantis is now taking heat from other Republicans. Even Trump wrote last week, "This is all so unnecessary, a political STUNT!" And (using a pejorative name), "DeSanctus is being absolutely destroyed by Disney." Whatever you call him, I believe that he will be out of politics entirely in a few years (partly because he is term limited as governor).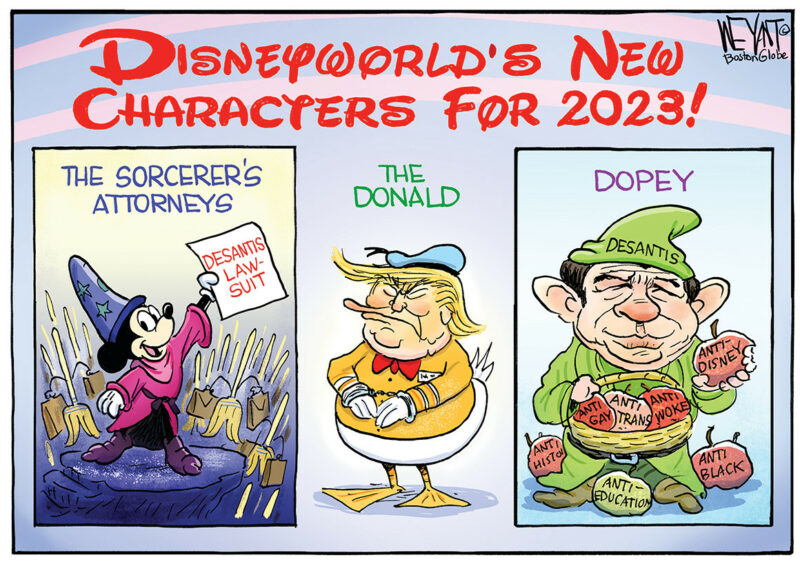 ---
Also published on Medium.