Despite Obama's message of change in Washington, some of his recent actions look more like the old politics.
For example, Obama recently recorded an endorsement for incumbent Congressman John Barrow of Georgia. Never mind that Barrow is an extremely conservative "blue dog" Democrat whose pro-war, pro-big-business, pro-eavesdropping, pro-telecom-amnesty and pro-Bush positions are what Obama has been promising to change. In contrast, Barrow's primary race challenger Regina Thomas is a progressive whose opinions are firmly in line with Obama's stated positions. So why is Obama supporting Barrow?
This is too reminiscent of Obama's endorsement of Joe Lieberman in his race for the Senate, against anti-war Democrat Ned Lamont. Now of course, Liberman is paying back the favor by endorsing McCain (some say even trying to become his VP).
http://www.salon.com/opinion/greenwald/2008/06/19/obama/index.html
Finally, there is Obama's troubling support of the FISA bill (even if you include his weak-kneed promise to try to remove telecom immunity from the bill). This is a bill that has been engineered by telecom lobbyists, for telecom lobbyists, and represents the old corrupt Washington ways at their worst. How can this be Change?
http://tpmelectioncentral.talkingpointsmemo.com/2008/06/obama_backing_fisa_compromise.php
UPDATE: Atrios names Obama "Wanker of the Day".
UPDATE 2: Glenn Greenwald's analysis of Obama's support for the FISA bill. It ain't pretty.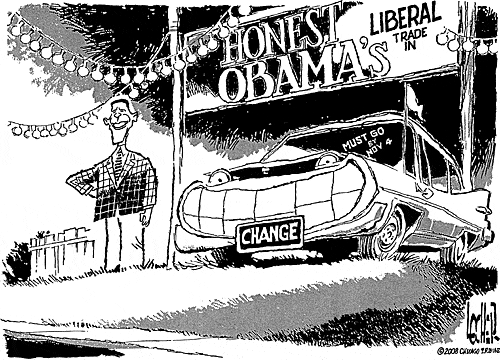 © Dick Locher