The McCain and Obama campaigns finally agree on something — this upcoming cover of The New Yorker magazine is "tasteless and offensive":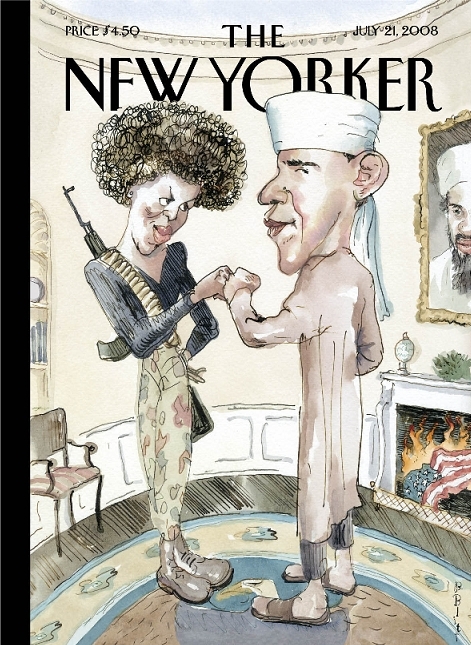 via Politico
The artist defends his cover art
Personally, I find the cover funny, although I'm not sure if everyone will get the humor. The bottom line is that The New Yorker will probably sell a bunch of magazines because of this cover.
UPDATE: 23/6 has a hilarious "outrage guide" to the New Yorker cover. Includes new, creative ways to be offended!
UPDATE 2: Newsweek magazine tells you why — even if you think the cover is funny — it will be a problem for Obama. Unfortunately, images — even sarcastic ones — speak louder than words.
UPDATE 3: What The New Yorker should have used for a cover: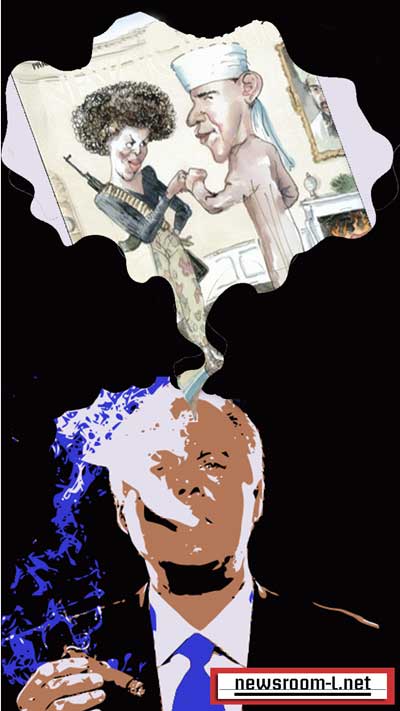 from newsroom-1.net
UPDATE 4: The New Yorker editor defends the cover. "Satire doesn't run with subtitles. A satirical cartoon would not be any good if it came with a set of instructions."
UPDATE 5: See the rebuttal!
UPDATE 6: Political cartoonists give their take. For example, Ruben Bolling (author of Tom the Dancing Bug) calls the cover "failed satire":
Good satire has got to take the premise further comedically, and it has to make clear what the target of the satire is. The target of the satire is not how radical Obama is, but, rather, how ridiculous the right wing apprehensions are. Because that was unclear, the satire didn't work.
But Matt Bors says "It seems that more people are worrying about people not getting it, than people actually not getting it."
UPDATE 7: Obama himself responds:
It's a cartoon … and that's why we've got the First Amendment. And I think the American people are probably spending a little more time worrying about what's happening with the banking system and the housing market, and what's happening in Iraq and Afghanistan, than a cartoon. So I haven't spent a lot of time thinking about it. … I've seen and heard worse. I do think that in attempting to satirize something, they probably fueled some misconceptions about me instead. But that was their editorial judgment.