He's already used it for everything from justifying cheating on his first wife, defending his health care plan, even explaining his music tastes. Heck, when McCain was accused of not being in a "cone of silence" as promised before his interview at the Saddleback Church, his campaign's response was "The insinuation from the Obama campaign that John McCain, a former prisoner of war, cheated is outrageous."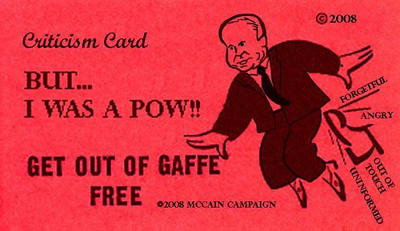 From Daily Kos. And also here.
UPDATE: Maureen Dowd has an interesting column about McCain overplaying the POW card.