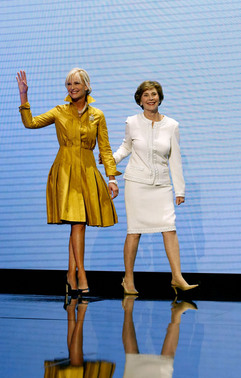 It's a good thing someone is paying attention to these details! Vanity Fair has done an estimate of the cost of the clothing worn by Cindy McCain and Laura Bush.
Laura Bush, obviously trying hard to not appear elitist, wore clothing with an estimated cost of between $3500 and $4300.
But Cindy McCain apparently didn't get the memo. Her outfit is worth an estimated $300,000. Yup, that's more than the cost of most people's houses. How hard is it to imagine her saying "What? That old rag?" when told about the Vanity Fair article?
As VF points out, it's a good thing that the GOP reporesents real working Americans, like Levi "F–in Redneck" Johnston.
UPDATE: When Michelle Obama appeared on "The View", her outfit cost $148.


UPDATE 2: new joke – "If Cindy McCain were a plane, Sarah Palin would sell her on eBay."