The political parties are required to file financial disclosure reports with the FEC (you can look at them yourself). Politico dug around and discovered that the Republicans spent more than $150,000 on clothes and accessories for Sarah Palin in the month since she was picked to be McCain's VP nominee. And that doesn't include $4,716 spent on her hair and makeup. One shopping spree alone, to Neiman Marcus in Minneapolis in early September, cost $75,063.
That's for someone who keeps calling herself an average small-town hockey mom.
Remember when John Edwards spent $400 for a hair cut in 2007, and he was ridiculed for a week? As Electoral Vote points out, if you Google "Edwards $400 haircut" you get tens of thousands of hits. Rush Limbaugh even asked if Edwards would be our nation's "first female President". In response the Dems ridiculed McCain for his $520 Ferragamo shoes (and tried to ridicule him for spending over $5000 per session on makeup — but that didn't work because, um, well, look at him, he needs makeup). And Hillary Clinton was ribbed for two hair styling sessions that cost around $3000 in 2006.
But all that pales in comparison to $150,000. That's an average of $5,000 per day. What makes this worse is that it was paid for with political funds. Cindy McCain wore an outfit to the Republican National Convention worth $300,000 (including jewelry), but at least she paid for it herself.
If Palin's clothing had been paid for out of campaign funds, it would have been illegal, because campaign finance rules prohibit spending campaign money on items for personal use. But it's a good thing that McCain helped write those rules, so that he knows the best way to get around them. Instead, the money came from the Republican National Committee which, while technically legal, seems to violate the spirit of the law.
UPDATE: A reader points to this article about Obama, with a photo of his shoes that have holes in the bottom from walking so much (and have already been resoled once). And I failed to mention that in the interest of fairness, Politico also reviewed campaign records for Obama and Biden, and didn't find any such spending on clothing or makeup.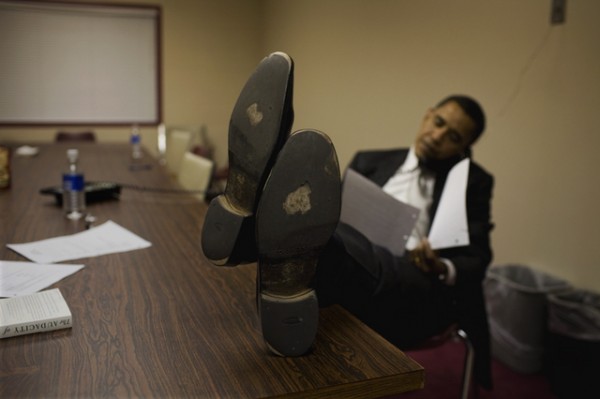 © Callie Shell
UPDATE 2: Add another $13,200 to the bill for Palin's makeup artist Amy Strozzi (in addition to the $4,716 already mentioned for her hair and makeup). Strozzi, who was nominated for an Emmy Award for makeup on "So You Think You Can Dance", wasn't noted by the Politico report because she is listed as doing "communications consulting" for the campaign. Smooth. McCain also paid $8,673 for his makeup artist, Tifanie White, for the month of September (and $5,583 for the previous month).