This is hilarious. Letterman is none too happy because he was jilted by McCain to "focus on the economy"; McCain then appears on Katie Couric's show instead:
What is even more hypocritical about McCain "suspending his campaign" (whatever that means, considering that he appeared on TV tonight) is that it was Obama who initially contacted McCain this morning at 8:30 am with the suggestion that they work together to develop a joint response to the economic crisis. At 2:30 pm, McCain phoned Obama to "express his willingness to work with Obama". But at 3 pm, McCain abruptly changed course and announced he was suspending his campaign to focus on the economic crisis and asked to postpone the debate.
Obama responded that he'd like to keep the debates as planned, because "it is going to be part of the president's job to deal with more than one thing at once". "This is exactly the time when the American people need to hear from the person who in approximately 40 days will be responsible for dealing with this mess." A poll conducted today shows that 86% of Americans think Friday's debate should go on.
Also note that McCain hasn't even shown up to vote in the Senate since April, having missed 109 of the last 110 votes (412 out of 643 for the current term), the worst job record of any senator. So why is it all of a sudden so important that he rush back to the Senate?  Is it because his poll numbers are dropping like a lead (economic) bubble?
Besides, McCain doesn't have to rush back to the Senate. As pointed out in the Wall Street Journal, McCain can "probably get to the bottom of the whole mess just by cross-examining the people riding on his campaign bus," since many of his campaign staff are the people who are responsible for the current crisis in the first place.
Finally, on top of all that, McCain admitted Tuesday that he had not yet even read the Wall Street bailout proposal even though it had been circulated four days before that. And it is a whole three pages long.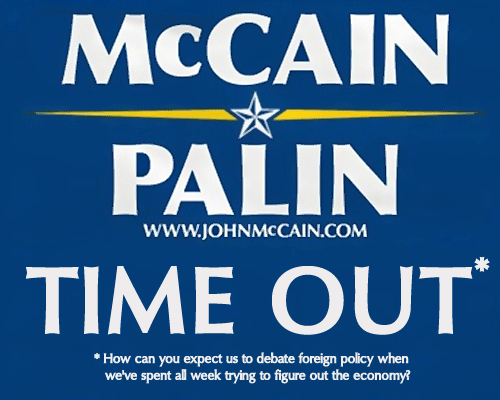 UPDATE: Senate Majority Leader Harry Reid says it would not be useful for McCain (or Obama) to return to Washington:
It would not be helpful at this time to have them come back during these negotiations and risk injecting presidential politics into this process or distract important talks about the future of our nation's economy. If that changes, we will call upon them. We need leadership; not a campaign photo op. If there were ever a time for both candidates to hold a debate before the American people about this serious challenge, it is now.
Also note that just before McCain declared he was suspending his campaign because of the importance of focusing on the economy, he did manage to find time to keep an appointment with Lady Lynn Forester de Rothschild, the former Hillary Clinton supporter who is now supporting McCain because she thinks Obam is "elitist".
UPDATE 2: Electoral Vote has an excellent summary of McCain's suspension of disbelief.