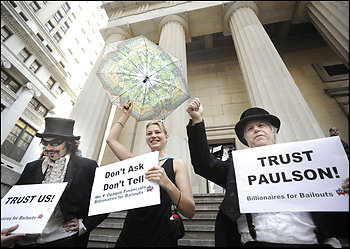 Remember the "Billionaires for Bush"? Well, they are back, except they are now the "Billionaires for the Bailout". They were out in force on Wall Street yesterday, dressed up in tuxedos and sending a shout-out of "Thank you for covering out assets!" to taxpayers for bailing them out.
But they weren't the only participants in a media circus. Nearby was a person wearing an oversized papier-mache head of Treasury Secretary Henry Paulson was dancing to the tune of "Money (That's What I Want)" while surrounded by people holding signs with slogans like "US Treasury Under New Management: Goldman Sachs".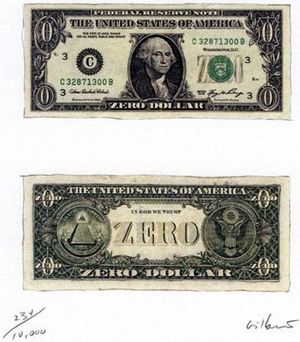 Meanwhile, artist Laura Gilbert passed out limited edition prints of her "Zero Dollar" — for free.
And two women wearing ghoulish white masks were also there, handing out real dollar bills with "USA Beware, Arrest Bush" on them.