At one of his town hall events, a woman in the audience said "I've heard that Senator Obama is an Arab."
To his credit, McCain cut the woman off and said "No, maam. He's a decent family man and citizen that I just happen to have disagreements with on fundamental issues." My opinion of McCain went way up in that moment. You can see the video here.
Likewise, at a similar event a man told McCain he's "scared" of an Obama presidency and who he'd select for the Supreme Court.
Again, McCain responded "I have to tell you. Senator Obama is decent person and a person you don't have to be scared of as president of the United States."
Unfortunately, at the second event McCain's audience booed him. Sad, that.
UPDATE: The other sad thing in this case is the mainstream media: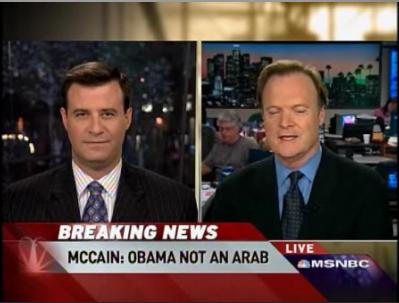 UPDATE 2: William F. Buckley's son Christopher has a good summation of McCain's situation: "If he goes out losing ugly, it will be beyond tragic."
UPDATE 3: Obama thanks McCain for helping to tone down the rhetoric. "I appreciated his reminder that we can disagree while still being respectful of each other."