The Republicans are in imminent danger of having another Katrina-disaster, in this case in the form of a swine flu epidemic and its effect on the economy. The swine flu has already killed over 100 people in Mexico and has spread to the US, causing the closing of schools and other public facilities in US cities. And the AP reports today that "World stock markets fell Monday as investors worried that a deadly outbreak of swine flu in Mexico could go global and derail any global economic recovery."
So what does this have to do with the Republicans? Let me count the ways…
First, the Republicans in the Senate are still blocking Obama's cabinet appointment of Kathleen Sebelius to head the Department of Health and Human Services (HHS), in a cheap political play to their base because of Sebelius' support for reproductive rights. In the meantime, the department is being run temporarily by a Bush appointee who spent most of his career working as an accountant (I'm sure he'll do a "heckuva job"). Not only that, but we don't have anyone running the Centers for Disease Control (CDC) because they need to be appointed by the head of HHS. Meanwhile, the Republicans continue their delays, placing politics ahead of the safety of the American people.
Second, Republicans made a huge show of stripping $900 million in funding for pandemic preparation from the economic stimulus bill, ridiculing the spending as pork that had nothing to do with economic recovery. Just a few weeks later, the world economy is taking a turn for the worse because of fears of a pandemic. The website of Republican Senator Susan Collins even brags about her removing the money for pandemic flu preparedness. As reported in the Wall Street Journal, "If swine flu morphs into a pandemic, it's the last thing the world economy needs, as it's already on its knees."
Finally, and on a slightly humorous note, Governor Rick Perry of Texas, who made headlines recently because of his comments about Texas seceding from the union, formally requested help from the CDC to deal with the possible swine flu pandemic. I guess he needs the federal government after all. Of course, without a director at the CDC (because of the Republicans) who knows when they will be able to respond.
UPDATE: This might be unrelated, but I couldn't resist. An Israeli official says that in deference to Muslim and Jewish sensitivities to pig references, the "swine flu" should be renamed. His suggestion? "Mexican flu", which might say more about the Israeli official's attitude towards Mexicans than about his religion. So much for sensitivity. US scientists say that there is nothing "Mexican" about the swine flu (it was first identified in the US).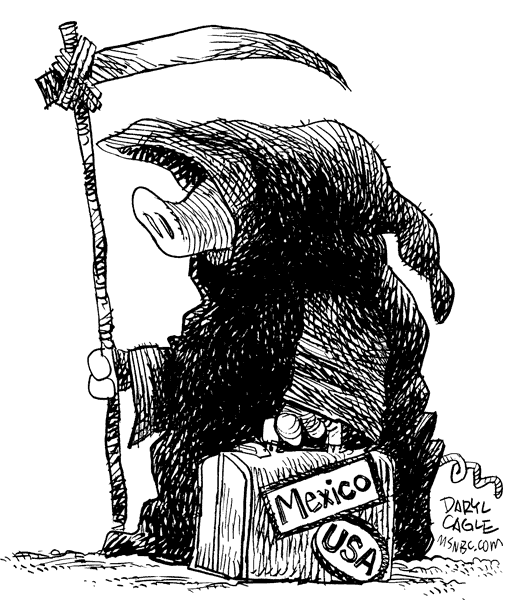 © Daryl Cagle
UPDATE 2: An excellent rant about this is in Seeing The Forest blog.
So as you worry about this possible flu pandemic, think about why your governement is not yet fully up and running to do its part and protect us. As we saw when hurricane Katrina hit New Orleans, government-hating Republicans destroyed our ability to respond to emergencies, and instead set up a system where contracts were awarded to cronies who collected the cash but never delivered the services.
In addition, the blog points out that Karl Rove also made fun of the money being allocated to pandemic flu preparations.