Congress was falling all over themselves to pass a bill punishing ACORN. In fact, they refer to the bill (in the bill itself) as the "Defund ACORN Act". The bill passed both the House and Senate.
There is only one problem with that — bills that punish a single person or organization without a trial are unconstitutional. Such a law is called a "bill of attainder" and is specifically barred by the constitution. So even though the law doesn't hide the fact that it is punishing ACORN, the language of the bill itself had to be written more broadly. So instead of defunding ACORN, it defunds "any organization" that has been indicted on charges of breaking federal or state election laws, lobbying disclosure laws, campaign finance laws, or filing fraudulent paperwork with any federal or state agency.
So, are there any other organizations that have been indicted for those things and receive federal funding? Lucky for us, the Project On Government Oversight has a handy list of federal contractors who have been guilty of fraud. The top ten on the list starts with Lockheed Martin, followed by Boeing, Northrop Grumman, General dynamics, Raytheon, BAE, L-3 Communications, United Technologies Corp., SAIC, KBR. In fact, pretty much every major defense contractor is on the list. So if this bill is signed into law by Obama, it would explicitly defund the entire military-industrial complex.
If Congress tightens up the language of the bill so it only applies to ACORN, then the bill is unconstitutional. But if they don't, then the bill requires federal funding to be cut off to all those corrupt organizations. That would save a lot of money!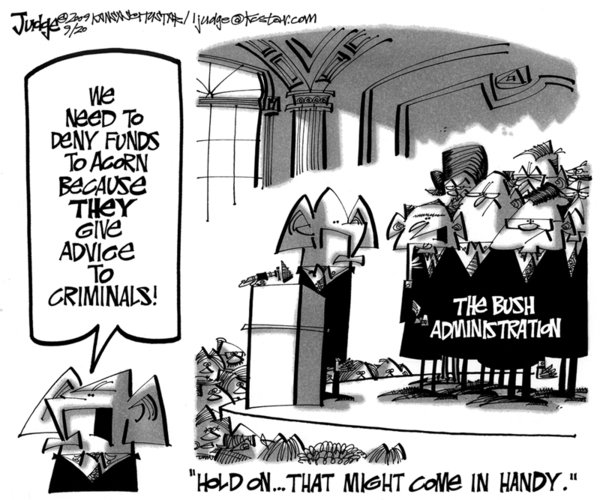 © Lee Judge