Today I watched a video where RNC chair Michael Steele again claimed that the US people were against the health care reform bill. And that is technically true. Even in today's poll, only 39% favored the bill that just passed, while 59% were opposed to it (2% had no opinion).
But what Steele isn't mentioning is why people are opposed to the current bill. If you break that down, it turns out that 13% of the people polled are opposed to the current bill, but because it doesn't go far enough. In other words, while 43% are opposed to the current bill because it is "too liberal", 52% are either in favor of the bill or were opposed to it because it was "not liberal enough".
To put it plainly, a majority of the people polled either are in favor of the current bill, or would have wanted it to be even stronger.
In addition, while many people say they are opposed to the current bill, if you ask them not about the bill in general, but about the specific provisions of the bill, then they are in favor of almost all of those provisions. When faced with actual facts, opposition to the bill crumbles.
In addition, Kaiser Health News printed a summary of the bill that was introduced by the Republicans in 1993 as an alternative to Clinton's health reform effort, and dang if it isn't almost the same thing that just got passed by Obama. And they claim that there are no Republican ideas in there. Hah!
UPDATE: after the bill passed and people had a chance to hear what was in it, its approval rating went up 10%. A new Gallup poll shows that 49% say that the bill is a "good thing", only 40% saying it is a "bad thing" and 11% with no opinion.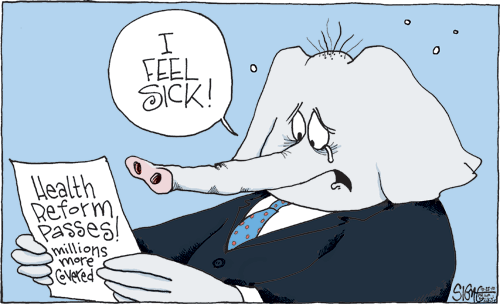 © Signe Wilkinson