You can be forgiven if you don't know what to think about the latest crazy meme running around the innertubes. Apparently, a recent episode of South Park was censored before it aired by Comedy Central, after they received a veiled threat because the episode contained images of the prophet Mohammed.
OMG, censorship, that's bad, right? We should be against that, right? So in retaliation, a Facebook group was formed to promote "Everybody Draw Mohammed Day". Even Jon Stewart slammed Islamic intolerance: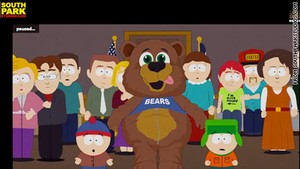 So why is this complicated? Well, there are some things that just don't add up. First of all, the show didn't have an actual image of Mohammed before it was censored. Instead, it had someone disguised in a friendly bear suit, which the show said was Mohammed (see image at right). Second, South Park has depicted Mohammed (using an actual image) in a previous episode and didn't receive any threats, so why now?
But what might be a very interesting twist is that the New York based website "Revolution Muslim" where the "veiled threat" was made was actually founded by a former orthodox Israeli. Another major contributor is the grandson of someone who was on the board of the Jewish Anti-Defamation League. And many of the statements released on their website seem purposely designed to get people pissed off at radical Muslims. For example, they sent "get well" wishes to the guy who shot 13 people at Fort Hood, and praised the killing of Daniel Pearl.
I'm not saying that there is proof that "Revolution Muslim" is an Israeli front group designed to stir up anger against Muslims, but if they were, they would be doing a damn good job of it. And there are enough suspicious coincidences around this website to make me question it.
On the other hand, there has been actual violence by radical Muslims that seeks to silence anti-Muslim views. For example, Dutch filmmaker Theo van Gogh was murdered after making a documentary critical of the treatment of women in Islam. And the Danish cartoonist who drew a caricature of Mohammed has received numerous death threats and was forced to retire.
Nevertheless, is the answer really to purposely draw images of Mohammed in order to purposely piss people off? Speaking of piss, do you remember the artwork "Piss Christ" from 1987 that angered Christians by depicting a small plastic crucifix submerged in a glass of the artist's urine? The violent reaction forced the show to be cancelled. Would an appropriate response back then to such obvious censorship to be a "Everybody Piss on Jesus" day?
I think cartoonist August J. Pollak has the right answer: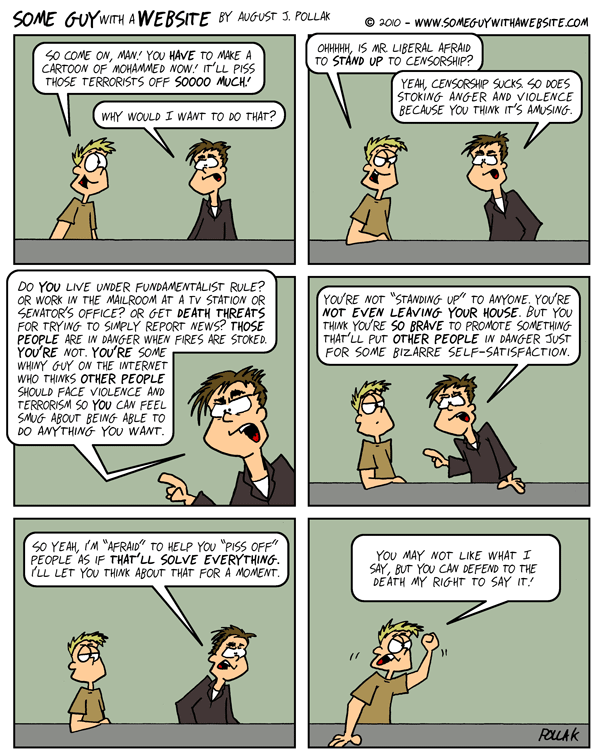 © August J. Pollak
See also his blog post about the whole thing.