Sunday morning, Senate minority leader Mitch McConnell (R-KY) appeared on CNN and NRSC chair John Cornyn (R-TX) appeared on NBC. Let's play "spot the talking point" in these two quotes from their respective appearances:
The last year of the Bush administration, the deficit as a percentage of gross domestic product was 3.2 percent, well within the range of what most economists think is manageable. A year and a half later, it's almost 10 percent.
You know, in the last year that President Bush was in office, 2008, the deficit was 3.2 percent of the gross domestic product. Today it's 10 percent.
So, if you heard either of them (and if you missed it, I'm sure you will get more chances), you probably thought "Gee that's amazing, Republicans were doing a good job with the economy until the Democrats came along and tripled the deficit."
There's only one problem: the federal fiscal year starts on October first, not January first, so the "year" 2008 they are talking about ended in September 2008, almost four months before Obama took office. In fact, the only time the deficit was lower than 3.2 percent of GDP was during 2007!
So what happened in those four months? Oh, let's see, how about Lehman Brothers going broke, the huge bank bailout (TARP), and — you know — just the biggest financial collapse since the Great Depression. And the American Recovery and Reinvestment Act (the stimulus) was passed February 17, a few weeks after Obama took office on January 20th, in order to fix that financial collapse.
Economist Paul Krugman has put together a handy graph: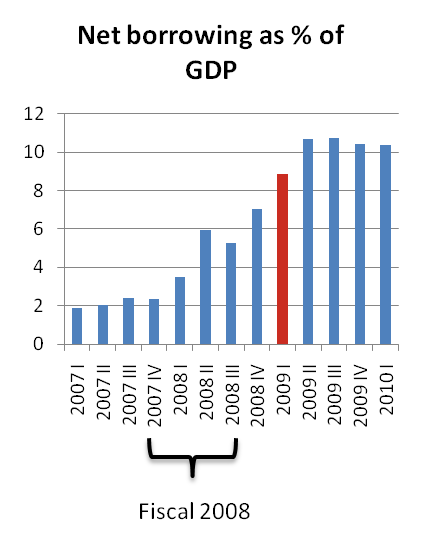 Note that Obama took office partway into the first quarter of 2009 (which I have colored red in Krugman's graph). Not only is it easy to see that "fiscal 2008" ended more than a quarter before Obama was even sworn in, but by the end of Bush's term the deficit had jumped to 9 percent of GDP. You can also see that the deficit was skyrocketing during the end of Bush's term and that within a few months not only was Obama able to stop it from rising, he was even able to start bringing it down (just a little).
So the truth is that at the end of the Bush administration, the deficit was 9% of GDP (not 3.2% as they claim) and that most of the deficit since then has been spent trying to repair the economic collapse, not to mention paying for Bush and "deficits don't matter" Cheney's two tax cuts for the rich, two freaking wars, the Medicare expansion, and No Child Left Behind, none of which the Republicans even tried to pay for.
As Krugman sums up: "They think we're idiots — and they may be right."