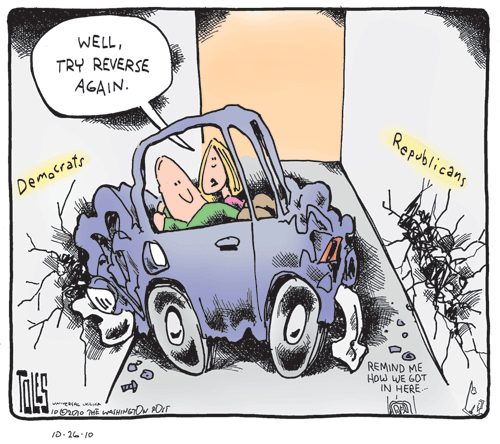 A new poll finds that by an astounding two-to-one margin, likely voters in next week's election think that federal taxes have gone up, believe the economy has shrunk, and are under the distinct impression that the money lent to banks as part of the TARP program won't be recovered.
The truth is that Obama cut taxes for 95% of the population (including most of those voters), yet by 52% to 19%, likely voters say that federal income taxes have gone up for the middle class in the past two years. Even a plurality of Democrats think that Obama has raised taxes.
Most of the TARP money has been paid back by banks as the economy improved, and the government is likely to make a $16 billion profit on those loans. Yet 60% of those polled believe most of the TARP money was lost.
And the economy has been expanding for the past nine months, with the S&P Index rising 75%, stocks recovering, and businesses showing profits. Yet over half the respondents think the economy is still spiraling down.
So, where in the world would they possibly get these crazy ideas?