William Saletan has a thoughtful article that takes the media to task for obsessing about politics as a sport, where the only thing that matters is whether you win or lose, and nobody cares how you actually play the game.
After all, we keep saying that we want our politicians to be less partisan, and to be more concerned about doing the right thing than only about being reelected. Well, we have a prime example right in front of us. A number of politicians voted for health care reform, knowing full well that not only was it the right thing to do, but that it would likely cost them politically.
Of course, two short years ago, after two successive Democratic election sweeps, the same media was writing off the Republicans as a failed party. As Saletan puts it "A party that loses a House seat can win it back two years later, as Republicans just proved. But a party that loses a legislative fight against a middle-class health care entitlement never restores the old order. Pretty soon, Republicans will be claiming the program as their own." Just like they are now trying to claim the title of defenders of Medicare. "In 30 years, they'll be accusing Democrats of defunding Obamacare."
If the only battle that matters is the election results, then the Democrats lost. But the more important battle was fixing a sadly dysfunctional health care system, which they accomplished, along with financial regulation, economic stimulus, saving our auto industry, college lending reform, and many other bills they got passed. If these are the battles that matter, then the Democrats didn't lose the battle of 2010, they won it. We should be grateful for their sacrifice.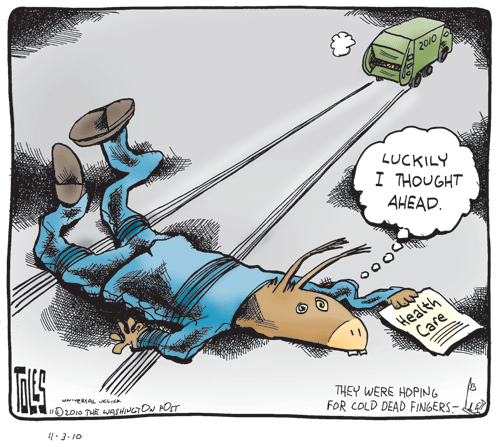 © Tom Toles