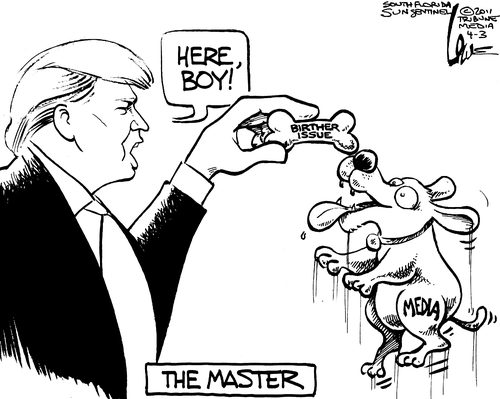 © Chan Lowe
Donald Trump stirs up the Republican base by asking why Obama won't release his birth certificate. The fact that Obama released his birth certificate years ago (and Hawaii officials verified it) doesn't seem to matter. And Trump seems to have had some problems producing his own birth certificate.
But according to Politico, Trump is "dragging other bits of the party down the birther rabbit-hole with him." And MSNBC says:
Donald Trump is going to be an amazing distraction. […] No other Democratic presidential candidate (or NON-candidate) ever overshadowed Obama or Clinton in 2008. But the theme so far to the 2012 race has been that a lot of Republicans — whether it's Trump, Michele Bachmann, or even Buddy Roemer (at one forum) — have already overshadowed the top-tier candidates.
And of course, in a move that surprised nobody, Fox News just announced that Trump will be doing a weekly segment for them. With most of the potential Republican candidates for president on the payroll of Fox News — getting paid to campaign — when are they just going to rename Fox News to the Republican Candidate Advertising Channel?
Speaking of the media, their utter fascination with Trump managed to keep some real new out of the spotlight — the unemployment rate has dropped to 8.8%, its lowest in two years and a sign that the economic recovery is finally translating into new jobs.