Conservatives are trying to promote the idea that former president Bush deserves some, if not most, of the credit for finding Osama bin Laden, and that torture provided the information that helped find him.
For example, Representative Steve King (R-IA) wrote "Wonder what President Obama thinks of water boarding now?" and the Tea Party Express tweeted "We hope all those who attacked the CIA interrogations of detained terrorists will now apologize and shut up – you were wrong!" Former defense secretary Donald Rumsfeld is even trying to give the lion's share of the credit to policies that he himself put in place during the Bush administration.
But if you look closely at what they are saying, you can tell that they are bending the truth. Even Rumsfeld hedges by saying that the crucial intelligence "very well could have been partly a result of the interviews that took place at Guantánamo." In other words, he doesn't know.
And in fact, once the full story was published, officials admitted that the critical piece of information that Rumsfeld, King, and the others were referring to — the nickname of one of bin Laden's trusted couriers — was NOT revealed during water boarding or other harsh interrogation. It was revealed during standard questioning. I repeat: Standard questioning gave us information that water boarding did not.
So to make this perfectly clear, water boarding is torture, and torture is illegal. We have hanged enemies for using water boarding for interrogation. And there is still absolutely no evidence that water boarding yielded any information that could not have been gotten though legal interrogation.
Conservatives can bluster all they want and claim that these techniques work, but it is just as likely that torture was the reason why Bush was not able to find bin Laden, while Obama was able to find and kill him. After all, Obama closed the black-ops prisons where those terrorists were tortured.
However, I would be perfectly happy to give the Bush administration complete credit now for finding bin Laden, but on one condition: that the Bush administration takes full credit for the financial collapse and financial meltdown that Obama is still pulling us out of.
UPDATE: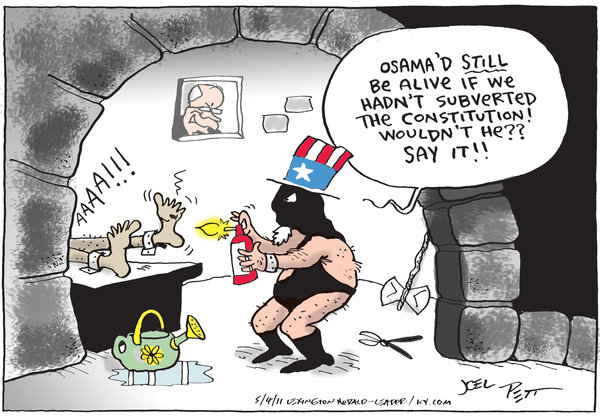 © Joel Pett